Archive for the
'Managing Playlists' Category
August 27 '15 - 2:12 pm
Assimilate View Options takes advantage of the iTunes behavior whereby a newly created playlist has the same visible columns as the Music library playlist. Select a playlist in iTunes and launch the script. That playlist will be re-created with the same columns available in its Songs View as are available in the Music library playlist.
This latest version will only work with iTunes 12.2 or later on OS X 10.10 or later. Because Things Are Different Now. An older version from 2012 is still available that will probably still work with pre-Yosemite/pre-iTunes12.2 versions.
Working on this script exposed me to some funny quirks with the latest version of iTunes. First, programmatically speaking, there is no way to tell the difference between a Genius and Smart playlist. In fact, (programmatically speaking) they appear as identical types. They both have a smart property set to true. Their playlist properties in the XML file both have Smart Info and Smart Criteria; and if this data for a Genius playlist is exported and re-imported, it does not produce a Genius playlist of tracks but just an empty Genius playlist. Buh?
Next, there is likewise no way to tell that a playlist downloaded from Apple Music (which will appear under a "Apple Music Playlists" header in—what used to be known as—the Source List) is such a thing. And if you duplicate it, the copy will appear with your regular playlists. Don't use Assimilate View Options with these playlists.
And while I'm sort of griping here, must new playlists default to Playlist View as the initial view? I really like Playlist Views as an option and I'm all for cutting down on Preference Pane Clutter, too, but a popup with my favored initial view couldn't take up that much space, could it?
Oh, and Santa? 'Scriptable playlist description?
June 16 '15 - 6:33 am
Dumb Down Genius Mix Playlist will copy the tracks of a playing Genius Mix playlist to a new "dumb" (regular) playlist. You can subsequently copy the contents of additional Genius Mix playlists to the new playlist, refill it, or create more. (Each Genius Mix playlist only contains about 70 tracks maximum, which is why you may have several, say, "Rock Mix" playlists.)
More information and download is on this page.
Previous Scripts of the Day. Subscribe to my RSS feed or follow @dougscripts on Twitter to get daily "Script of the Day" notifications.
June 10 '15 - 6:21 am
If you're like me, you may occasionally prefer to listen to full albums back-to-back. Back in the day, this device assisted with doing that: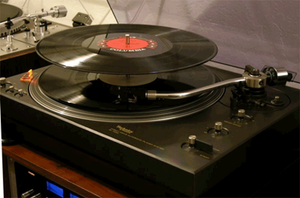 I haven't got one of those anymore (I got rid of the five-disc CD changer, too). But I've got this script that sorta works the same way. Without having to get up to flip the stack…or even pick the records.
Random Full Albums to Playlist v1.2 will assemble a user-set number of randomly selected full albums to a playlist. And by "full album", I mean a set of music tracks with the same album name, track count, and disc number, where the number of tracks from each album is equal to the common track count.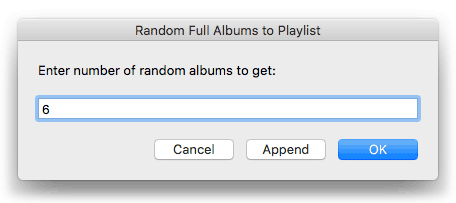 This latest version is a maintenance update and I added an option to run it again without re-launching if you don't like the selection. Of course, the whole point is that it's a random selection of albums, so you're kind of cheating by running it again like that.
More information and download is on this page.
June 3 '15 - 6:04 am
Merge-Delete Playlists will allow you to merge the track contents of two or more playlists or delete any number of playlists at once, including Smart, Genius, and Playlist Folder playlists.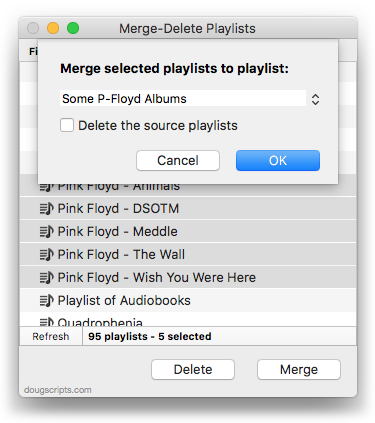 The merge feature will prevent the same tracks that may appear in different source playlists from being duplicated and has an option to delete original playlists. The delete feature only deletes the playlist; tracks, of course, remain in the library.
More info and download is on this page.
Previous Scripts of the Day. Subscribe to my RSS feed or follow @dougscripts on Twitter to get daily "Script of the Day" notifications.
May 27 '15 - 8:23 am
Make Playlists By Years will create a new music track playlist for every year (or range of years) based on the Year tags of tracks in the Music Library. Optionally, Year playlists can be sorted into Playlist Folders by decade or filtered by a single Genre. (Accurate tagging is a must. Tracks with empty Year tags are ignored.)
In this screenshot, I've created playlists of the years 1970-2015 for the tracks in the "Pop" Genre and moved them to corresponding Playlist Folders named by decade:
All of the created playlists will be placed into a "Playlists By Years" Playlist Folder. The "Rock" playlists were created previously.
It can take a few moments for larger playlists to be assembled (200+ tracks). But, depending on the number of playlists it needs to create, the whole operation can be pretty brisk.
You'll notice that the playlists the applet creates are named with a final "." (dot). This is in order to distinguish them from any other playlists that are similarly named. See, the applet may re-create those playlists on subsequent runs and if it needs to create, for example, a new "Rock 1977." playlist it will delete every playlist with that name (otherwise, I'd have a dozen "Rock 1977." playlists in no time). So the distinguishing dot is just to make them somewhat different from the obvious.
Of course, if you want to preserve the playlists it creates, just duplicate and/or rename them.
More information and download is on this page.
(Be sure to see Playlist Manager which has batch-delete and batch-rename playlists functions; and Rescue Playlists from Folder and Move Playlists to Folder which remove/move playlists from/to Playlist Folders.)
May 26 '15 - 7:19 am
Duplicate Playlist Folder as Playlist will copy all the tracks in a selected Playlist Folder to a new "plain" playlist, essentially duplicating the tracks as viewed when the Playlist Folder is selected.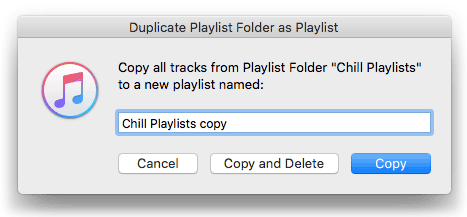 Optionally, it can delete the selected source Playlist Folder and its contents (of course, the tracks remain in your library, but any playlists and sub-Playlist Folders it contains can be deleted).
More info and download is on this page.
Previous Scripts of the Day. Subscribe to my RSS feed or follow @dougscripts on Twitter to get daily "Script of the Day" notifications.
May 8 '15 - 10:32 am
Playlists Info will display a sortable list of playlists from the selected source (the local library or a mounted device) along with their size, time and number of tracks. Additionally, the script can export a text file listing that information heirarchically.
By default it will display the playlists in the local iTunes library. But in the screenshot above, I've selected to view the playlists on my iPod touch. The window will stay open over iTunes. Double-clicking a playlist in the list will select it in iTunes.
More information and download is here.
Subscribe to my RSS feed or follow @dougscripts on Twitter to get daily "Script of the Day" notifications.
May 3 '15 - 3:25 pm
Make Playlists By Tag v2.0 will create Music track playlists based on each selected entry of a specified tag. That is, create individual playlists by Artist, Album Artist, Album, Composer (and their "Sort" siblings), Genre, or Year.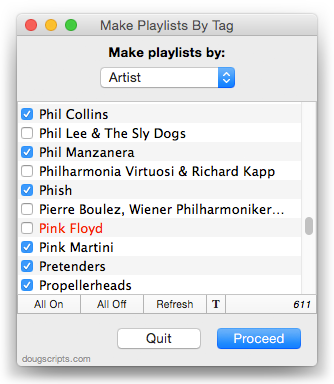 In the screenshot above, the script will create a playlist for each checkmarked Artist.
This latest version is essentially a maintenance update for better compatibility with Yosemite and also fixes an issue where tags containing white space characters would appear as blank; now the script ignores such tags.
OS X 10.8 and later only. More info and download is here.
February 26 '15 - 9:37 am
Show In Playlists displays a persistent floating window that will list the playlists containing the selected or playing tracks in iTunes.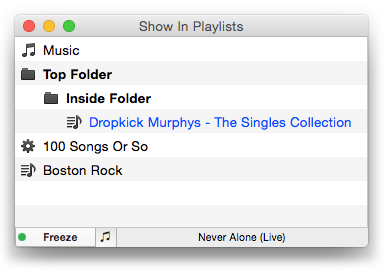 This latest version adds a toggle to monitor just selected tracks or just playing tracks. I also had to pull support for OS X 10.8 since it doesn't seem to like a few modern coding features. I may not be able to fix that.
Here's a short video showing how to make it go:
Show In Playlists is free to use for ten days and $1.99 to purchase. More information and download is here.
February 11 '15 - 12:20 pm
Show In Playlists puts up a floating window that lists the playlists that contain the current track selection. Whenever you select a track in iTunes, bam! The playlists that contain it will be listed: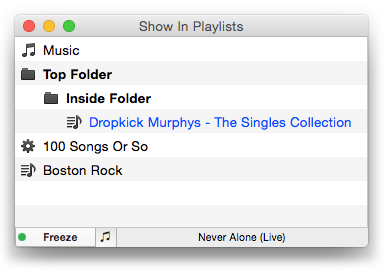 It's sort of like iTunes' own "Show In Playlist" without the right-clicking and scrolling. In the screenshot, I've selected a track in the "Dropkick Murphys – The Singles Collection" playlist and the window displays the other playlists that contain the selected track. Select multiple tracks, as you might for an entire album or artist, and only the playlists that contain the entire track selection will be listed.
You can go through a list of tracks pretty fast. But I've also found it handy just having it hang-out off to the side of iTunes when I'm working on tracks. I've found a few strays that way.
Clicking a playlist in the list selects it in iTunes and, if there's just a single track in the selection, that track will be selected in the selected playlist.
The routine can be toggled off ("Freeze") such that the current list of playlists will remain fixed and selectable, so you can refer to the playlists in the list or navigate tracks and playlists in iTunes without the list updating.
Show In Playlists is free to try full-featured for ten days, $1.99 to purchase. More info and download is here.