Append the same user-entered text to the beginning or ending of the existing text in the chosen tag (Song Name, Artist, Album Artist, Album, Composer, Comments, Genre, Grouping or Show Name, and their Sort siblings) in each selected track.
For tags other than "Song Name" and "Show Name", this script may be just slightly less involved than performing a multi-edit on the selected tracks
Also see This Tag, That Tag Scripts.
Action shot:
Preview each track as it will appear after applying the entered text.
Latest version:

Adds Genre tag
Applies text even if chosen tag for a track is blank
February 9, 2014

Info:
Popular Now
Remove iTunes tracks disassociated from files
Copy Artist to Album Artist of selected tracks
Correct song titles listed as "Artist - Song Name"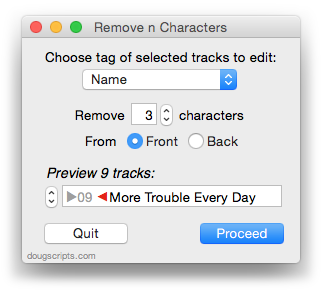 Set the Plays of selected tracks.
10 Most Recently Added: