OS X 10.8 or later. Append the same user-entered text to the beginning or ending of the existing text in the chosen tag (Song Name, Artist, Album Artist, Album, Composer, Comments, Genre, Grouping or Show Name, and their Sort siblings) in each selected track.
Also see This Tag, That Tag and Multi-Item Edit.
Action shot:
Preview each track as it will appear after applying the entered text.
Info:

file format:

Cocoa-AppleScript (Applet)

Gatekeeper Security:

Authorized Apple Developer ID

written by

Doug Adams

latest version downloads:

375 |

total downloads:

15494

download size:

353.5K

older PPC/universal version:

direct download
Perhaps Also of Interest...
Popular Now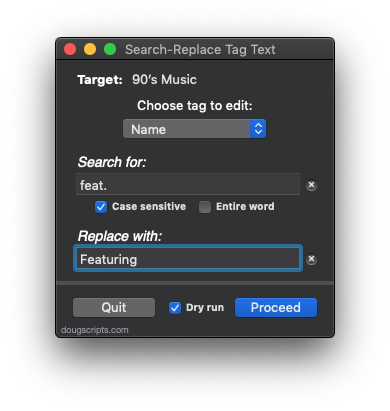 downloaded 7m 18s ago
Perform search-and-replace on text in your choice of tags
downloaded 11m 57s ago
Correct song titles listed as "Artist - Song Name"
downloaded 13m 4s ago
Rename selected tracks' Song Names with their filenames (minus extension)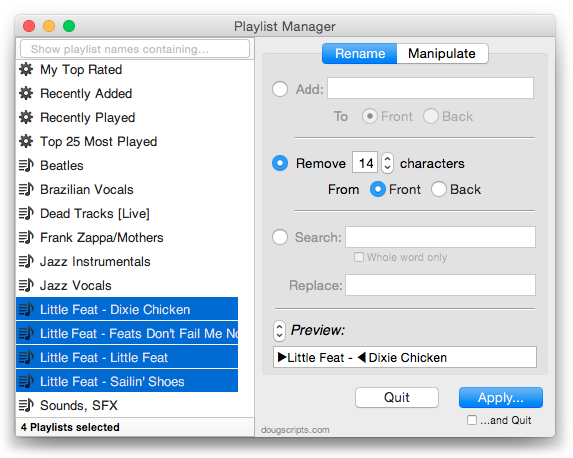 downloaded 29m 58s ago
Perform tasks on a batch of playlists; rename, delete, duplicate, merge, more
downloaded 33m 9s ago
Use special track to stop iTunes, cue next track
10 Most Recently Added
UPDATED 13 days ago:


Flush Apple Music Cache Files v1.0
Delete files downloaded and cached by Apple Music

UPDATED September 7, 2015:


Playlist Manager v2.5
Perform tasks on a batch of playlists; rename, delete, duplicate, merge, more

UPDATED September 6, 2015:


Playlists Info v1.4
Display and export playlists' name, size, time, and track count for selected source

UPDATED September 6, 2015:


Show In Playlists v1.3
Continuously display playlists containing selected/playing track(s)

UPDATED September 5, 2015:


List MIAs v4.3
Display, create text file listing info of dead tracks

UPDATED September 5, 2015:


Super Remove Dead Tracks v4.4
Remove iTunes tracks disassociated from files

UPDATED August 31, 2015:


Tracks Without Embedded Artwork v1.2
Gather audio tracks whose files contain no artwork metadata

UPDATED August 30, 2015:


Track Down Purchases v3.3
Sort purchased tracks into discrete playlists by name or Apple ID

UPDATED August 27, 2015:


Assimilate View Options v4.0
Recreate a playlist such that its visible columns mirror the Music library

UPDATED August 17, 2015:


Remove Leading-Trailing Spaces v1.2
Removes leading and trailing space characters from chosen tags in selected tracks
30 Most Recent RSS Feed