This script re-creates a single selected playlist so its View Options (visible columns) are the same as the main Music library (taking advantage of the fact that new playlists acquire the Music library's View Options).
Works only with regular playlists and Smart playlists.
Assign it a keyboard shortcut for ease of use.
Info:

file format:

Script Bundle

Gatekeeper Security:

None

written by

Jack Gill and Doug Adams

latest version downloads:

2376 |

total downloads:

10184

download size:

240.1K
Perhaps Also of Interest...
Popular Now
downloaded 5m 23s ago
Set the Plays of selected tracks.
downloaded 26m 5s ago
Re-associate batch of dead tracks with files from selected folder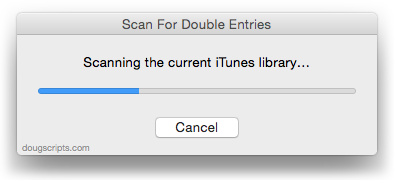 downloaded 1h 21m 23s ago
Locates pairs of track entries pointing to the same file
downloaded 1h 29m 43s ago
Batch-create music playlists by indivdual year
downloaded 1h 48m 24s ago
Exports and then re-imports selected tracks' artwork
10 Most Recently Added
NEW 3 days ago:


Make Playlists By Years v1.0
Batch-create music playlists by indivdual year

UPDATED May 3, 2015:


Make Playlists By Tag v2.0
Create a playlist for each entry of a specified tag

UPDATED April 27, 2015:


Copy From Start to Stop v2.1
Copy the file of the selected track using its Start and Stop times

UPDATED April 15, 2015:


File Renamer v3.1
Use tag data to formulate new file name for selected tracks' files

UPDATED April 12, 2015:


This Tag That Tag v4.3
Applet assists with swapping, copying, appending data between track tags

UPDATED April 5, 2015:


Re-Embed Artwork v2.1
Exports and then re-imports selected tracks' artwork

UPDATED March 31, 2015:


Open iTunes Media Folder v3.0
Open the iTunes Media folder in the Finder

UPDATED March 31, 2015:


A Space Between v1.2
Applet plays tracks with a user-set duration of silence between each track

UPDATED March 28, 2015:


I Hate That iTunes Done Chime! v3.0
Change the iTunes "done" chime to a System sound, no sound, or your choice of an AIFF sound file

UPDATED March 23, 2015:


Convert and Export v3.1
Convert selected tracks and export the converted files to a new folder
30 Most Recent RSS Feed