This script will allow you to merge the track contents of two or more playlists or delete any number of playlists at once, including Smart, Genius, and Playlist Folder playlists. The merge feature will prevent the same tracks that may appear in different source playlists from being duplicated and has an option to delete original playlists. The delete feature only deletes the playlist; tracks, of course, remain in the library.
Very handy when assigned a keyboard shortcut.
Action shot:
About to merge two selected playlists to a single existing playlist. The tracks in the two selected playlists will be copied to the target playlist.
Latest version:
July 11, 2015
Preliminary support for OS X 10.11 (El Capitan)
Accommodates changes in iTunes 12.2
Refreshes list after XML updates
Unchecks "Delete source playlists" checkbox before each merge
Further:
Info:

file format:

Cocoa-AppleScript (Applet)

Gatekeeper Security:

Authorized Apple Developer ID

written by

Doug Adams

latest version downloads:

232 |

total downloads:

7892

download size:

407.4K

older PPC/universal version:

direct download
Perhaps Also of Interest...
Popular Now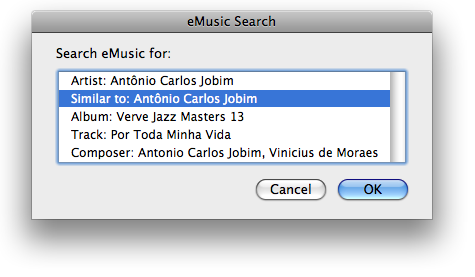 downloaded 9m 43s ago
Search eMusic using selected or playing track's tag data
downloaded 9m 49s ago
Search allmusic website (AMG) with data from selected or playing track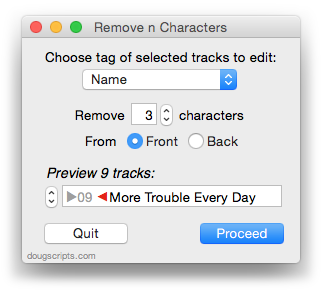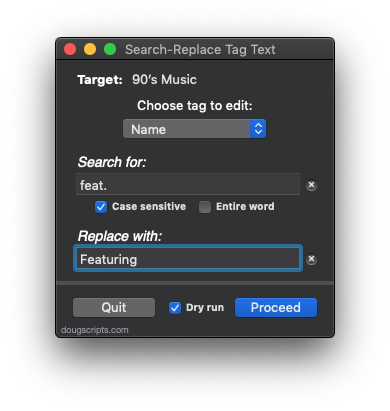 downloaded 14m 44s ago
Perform search-and-replace on text in your choice of tags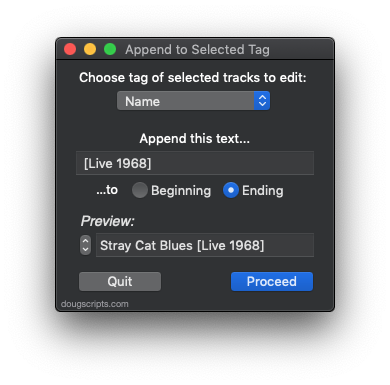 downloaded 15m 8s ago
Append user-entered text to beginning or ending of selected tag of each selected track
10 Most Recently Added
UPDATED 13 days ago:


Flush Apple Music Cache Files v1.0
Delete files downloaded and cached by Apple Music

UPDATED September 7, 2015:


Playlist Manager v2.5
Perform tasks on a batch of playlists; rename, delete, duplicate, merge, more

UPDATED September 6, 2015:


Playlists Info v1.4
Display and export playlists' name, size, time, and track count for selected source

UPDATED September 6, 2015:


Show In Playlists v1.3
Continuously display playlists containing selected/playing track(s)

UPDATED September 5, 2015:


List MIAs v4.3
Display, create text file listing info of dead tracks

UPDATED September 5, 2015:


Super Remove Dead Tracks v4.4
Remove iTunes tracks disassociated from files

UPDATED August 31, 2015:


Tracks Without Embedded Artwork v1.2
Gather audio tracks whose files contain no artwork metadata

UPDATED August 30, 2015:


Track Down Purchases v3.3
Sort purchased tracks into discrete playlists by name or Apple ID

UPDATED August 27, 2015:


Assimilate View Options v4.0
Recreate a playlist such that its visible columns mirror the Music library

UPDATED August 17, 2015:


Remove Leading-Trailing Spaces v1.2
Removes leading and trailing space characters from chosen tags in selected tracks
30 Most Recent RSS Feed