This script will allow you to merge the track contents of two or more playlists or delete any number of playlists at once, including Smart, Genius, and Playlist Folder playlists. The merge feature will prevent the same tracks that may appear in different source playlists from being duplicated and has an option to delete original playlists. The delete feature only deletes the playlist; tracks, of course, remain in the library.
Very handy when assigned a keyboard shortcut.
Action shot: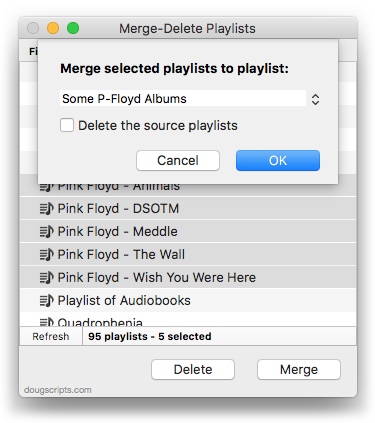 About to merge two selected playlists to a single existing playlist. The tracks in the two selected playlists will be copied to the target playlist.
Latest version:
November 15, 2015
Adds Filter field to limit list to playlists containing entered text
Distinguishes Smart and Genius playlists correctly in iTunes 12.2 and later
Displays empty playlists in red text
Further:
Info:

file format:

Cocoa-AppleScript (Applet)

Gatekeeper Security:

Authorized Apple Developer ID

written by

Doug Adams

current version downloads:

623 |

total downloads:

8627

.zip download size:

372.4K

older PPC/universal version:

direct download
Perhaps Also of Interest...
10 Most Recently Added