OS X 10.10 or later only. iTunes can only export a single playlist at a time (File > Library > Export Playlist...). This applet will export each selected plain, Smart, and Genius playlist as individual XML or M3U files to a user selected directory. Such files can be imported into iTunes again later or into other devices or apps. Not as fast as iTunes' own "Export Playlist..." command, but it does the job without the repetition required.
Also see Export Selected Tracks to XML.
Action shot: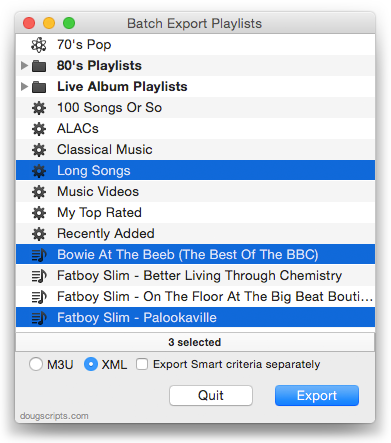 Select some playlists, choose the file type, and click on "Export".
Info:

file format:

Cocoa-AppleScript (Applet)

Gatekeeper Security:

Authorized Apple Developer ID

written by

Doug Adams

current version downloads:

1548 |

total downloads:

6412

.zip download size:

398.9K

older pre-OS X 10.9 version:

direct download

older pre-OS X 10.10 version:

direct download
Perhaps Also of Interest...
10 Most Recently Added
UPDATED 4 days ago:


Drop A Few My Way v4.0
Drag-and-drop to convert audio files with iTunes

UPDATED 4 days ago:


Drop to Add and Make Playlists v3.3
Droplet adds files, creates playlists based on folder name(s)

UPDATED April 12, 2017:


Proper English Title Capitalization v3.4
Title Cap various track tags, featuring editable exceptions lists

UPDATED April 9, 2017:


Filenames to Song Names v3.1
Rename selected tracks' Song Names with their filenames (minus extension)

UPDATED April 8, 2017:


Playlist Manager v2.8
Perform tasks on a batch of playlists; rename, delete, duplicate, merge, more

UPDATED April 4, 2017:


Multi-Item Edit v5.2
View/Edit tags of selected track(s) in single window

UPDATED April 1, 2017:


Batch Trim Start or Stop Time (Seconds) v2.2
Change selected tracks' Start Time or Stop Time by user-entered seconds

UPDATED April 1, 2017:


Reset Tracks Start-Stop v2.2
Batch-reset the Start and Stop Time of selected tracks to their entire duration

UPDATED March 31, 2017:


Search-Replace Tag Text v4.9
Perform search-and-replace on text in your choice of tags

UPDATED March 29, 2017:


Remove n Characters From Front or Back v5.7
Delete characters from the beginning or ending of selected tracks' name, artist, album, comments, composer, or show tags
Doug's Check for Update Applet
30 Most Recent RSS Feed