This script converts the files of the selected tracks in iTunes using an encoder of your choice on-the-fly (restoring your Preferences-set encoder afterwards). The newly converted files are then moved to a new location of your choice, and their tracks removed from iTunes.
Info:

file format:

Cocoa-AppleScript (Applet)

Gatekeeper Security:

Authorized Apple Developer ID

written by

Doug Adams

latest version downloads:

499 |

total downloads:

17591

download size:

310.1K

older pre-OS X 10.9 version:

direct download
Perhaps Also of Interest...
Popular Now
downloaded 1m 31s ago
Change file type to make selected AACs bookmarkable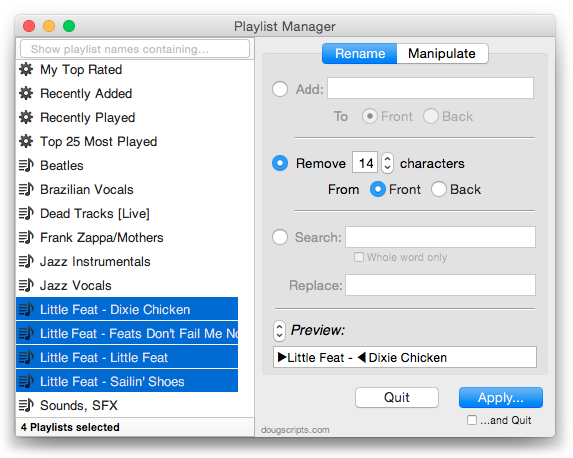 downloaded 16m 48s ago
Perform tasks on a batch of playlists; rename, delete, duplicate, merge, more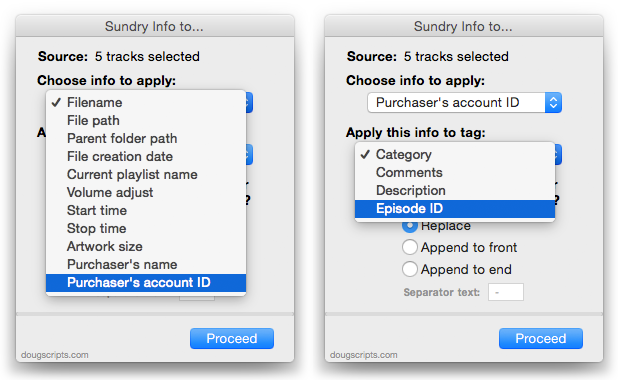 downloaded 18m 14s ago
Paste non-ID3 Tag track and file-related info into Category, Comments, Description or Episode ID tag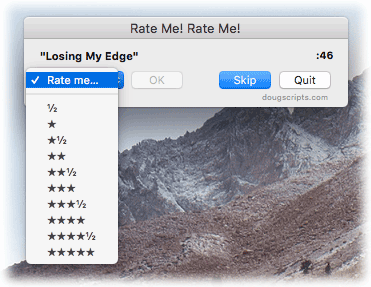 downloaded 22m 20s ago
Applet compels you to rate unrated current track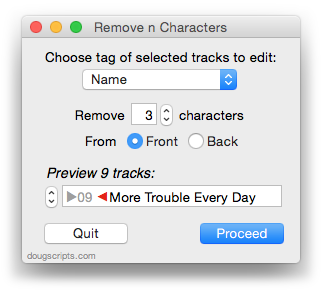 10 Most Recently Added
NEW 2 days ago:


Make Playlists By Years v1.0
Batch-create music playlists by indivdual year

UPDATED May 3, 2015:


Make Playlists By Tag v2.0
Create a playlist for each entry of a specified tag

UPDATED April 27, 2015:


Copy From Start to Stop v2.1
Copy the file of the selected track using its Start and Stop times

UPDATED April 15, 2015:


File Renamer v3.1
Use tag data to formulate new file name for selected tracks' files

UPDATED April 12, 2015:


This Tag That Tag v4.3
Applet assists with swapping, copying, appending data between track tags

UPDATED April 5, 2015:


Re-Embed Artwork v2.1
Exports and then re-imports selected tracks' artwork

UPDATED March 31, 2015:


Open iTunes Media Folder v3.0
Open the iTunes Media folder in the Finder

UPDATED March 31, 2015:


A Space Between v1.2
Applet plays tracks with a user-set duration of silence between each track

UPDATED March 28, 2015:


I Hate That iTunes Done Chime! v3.0
Change the iTunes "done" chime to a System sound, no sound, or your choice of an AIFF sound file

UPDATED March 23, 2015:


Convert and Export v3.1
Convert selected tracks and export the converted files to a new folder
30 Most Recent RSS Feed