Makes a copy of the selected track using its Start and Stop times as the beginning and ending of the new file and adds to Library, with option to name new track/file. Works best with CD tracks. If using with file tracks, NOTE: you may experience some degradation of audio quality if you re-encode a file (one which has already been encoded), and thus the quality of your copy may be a matter of taste. Mileage will vary.

Works as a fine companion to the script Player Position to Start or Stop, which sets the Start or Stop time of the currently loaded track to the time of the paused player position.
Action shot:
Use the modified Start and Stop times of the track as the new times for a copy of the track.
Info:

file format:

Application (Applet)

Gatekeeper Security:

Authorized Apple Developer ID

written by

Doug Adams

latest version downloads:

116 |

total downloads:

4545

download size:

345.1K
Perhaps Also of Interest...
Popular Now
downloaded 47m 15s ago
Play the selected track and stop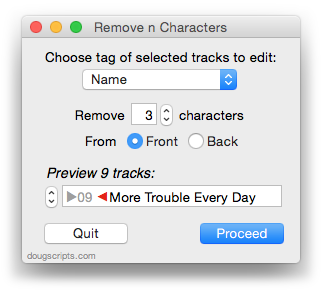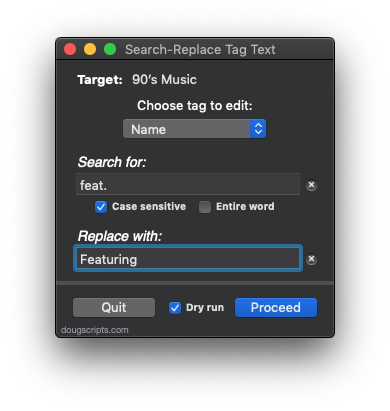 downloaded 56m 55s ago
Perform search-and-replace on text in your choice of tags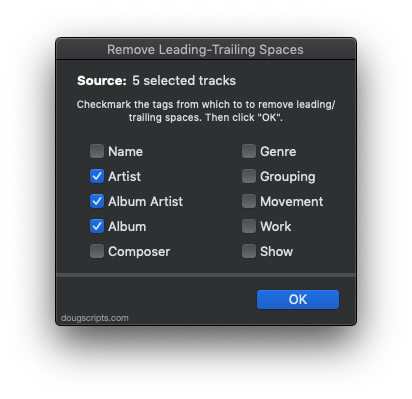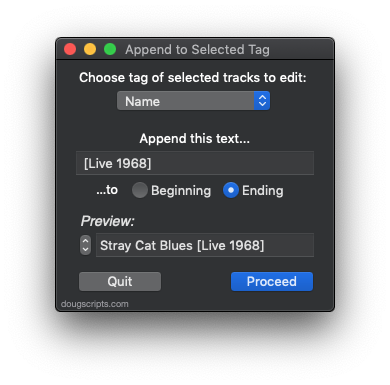 downloaded 58m 16s ago
Append user-entered text to beginning or ending of selected tag of each selected track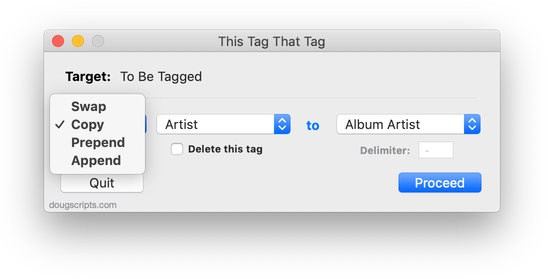 downloaded 1h 6m 33s ago
Applet assists with swapping, copying, appending data between track tags
10 Most Recently Added