OS X 10.8 and later. This applet will copy specfic tag data from one set of selected tracks to a second set of selected tracks. You can copy any combination of Enabled (checkbox), Song Name, Artist, Album, Album Artist, Composer, Genre, Grouping, Last Played Date, Rating, Loved, Plays, Lyrics, BPM, Artwork, Disc and Track info, Comments, Year and Sort Tags.
Use with thoughtfulness. Both sets of selected tracks should be sorted by Play Order/Manual Order (or at the very least using the same sorting) so the tag info is copied in the correct order from and to the intended tracks.
Only tracks in the local iTunes library are accessible. Apple Music's "For You", "New" and "Radio" tracks are inaccessible.
Action shot: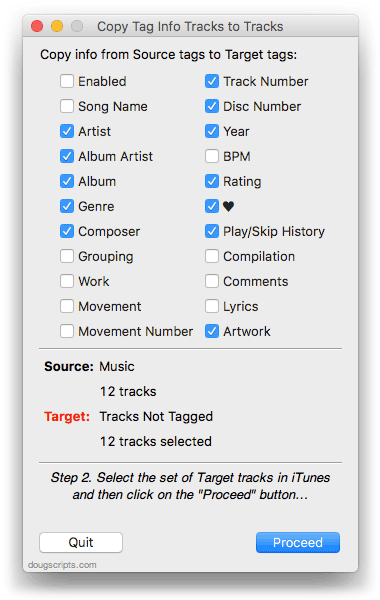 Copy the chosen tags from a set of Source tracks to a second set of Target tracks.
Info:

file format:

Cocoa-AppleScript (Applet)

Gatekeeper Security:

Authorized Apple Developer ID

written by

Doug Adams

current version downloads:

517 |

total downloads:

23909

.zip download size:

383.6K

older PPC/universal version:

direct download

older pre-OS X 10.9 version:

direct download
Perhaps Also of Interest...
Popular Now
downloaded 1m 51s ago
Exports and then re-imports selected tracks' artwork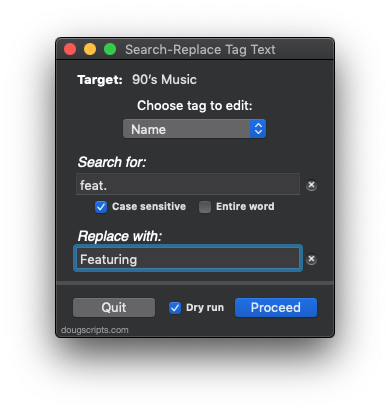 downloaded 7m 27s ago
Perform search-and-replace on text in your choice of tags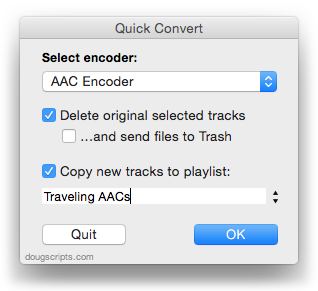 downloaded 11m 34s ago
Convert or import tracks with any encoder on the fly
downloaded 14m 56s ago
Set the Plays of selected tracks.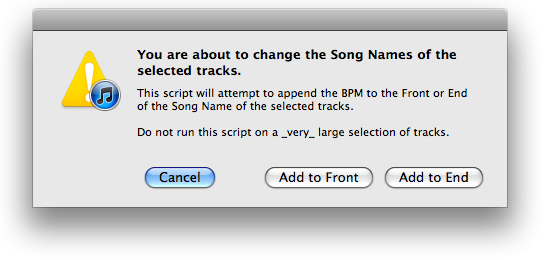 downloaded 22m 32s ago
Append the BPM to the beginning or ending of the Song Name of selected tracks
downloaded 24m 53s ago
Applet assists with swapping, copying, appending data between track tags
10 Most Recently Added