For macOS 10.10 and later only. This script will float alongside iTunes and continuously monitor it for a single track to be selected and display that track's file path (if it exists); or the script can be set to likewise display the file path of each playing track. Includes Show in Finder and Copy Path to Clipboard options.
Action shot:

The file path of the selected track will be displayed.
Info:

file format:

Application (Applet)

Gatekeeper Security:

Authorized Apple Developer ID

written by

Doug Adams

current version downloads:

66 |

total downloads:

257

.zip download size:

793.7K
Perhaps Also of Interest...
Popular Now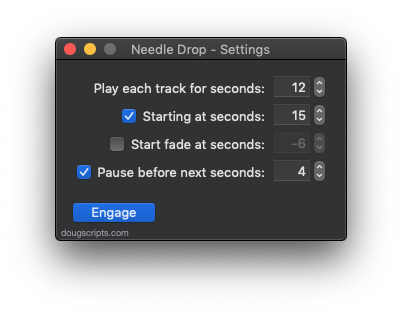 downloaded 16m 37s ago
Play through each track in a playlist at your set interval
downloaded 18m 19s ago
Search for lyric sites with Google using info from the current or selected track
downloaded 27m 11s ago
Set the Plays of selected tracks.
downloaded 1h 7m 37s ago
Open the iTunes Media folder in the Finder

downloaded 1h 25m 59s ago
Convert selected tracks and export the converted files to a new folder
downloaded 1h 33m 27s ago
Exports and then re-imports selected tracks' artwork
10 Most Recently Added
NEW 7 days ago:


Show Me The Metadata v1.0
Display a selected file's audio and Spotlight metadata

UPDATED 10 days ago:


Divvy Up A Playlist v1.1
Copy tracks from large playlist into smaller time limited playlists

UPDATED 11 days ago:


Coverscope v1.1
View/edit assigned and embeded artwork for selected track

NEW July 1, 2017:


Find Empty iTunes Media Folders v1.0
Finds and displays any empty folders in the iTunes Media folder

UPDATED June 22, 2017:


Refresh Smart Playlists v2.2
Compel selected Smart Playlists to refresh their track contents

UPDATED June 18, 2017:


Convert and Export v4.0
Convert selected tracks and export the converted files to a new folder

UPDATED June 14, 2017:


Merge-Delete Playlists v5.1
Batch merge and/or delete playlists

UPDATED June 13, 2017:


Playlists Info v1.7
Display and export playlists' name, size, time, track count, love/dislike for selected source

UPDATED June 13, 2017:


Show In Playlists v1.9
Continuously display playlists containing selected/playing track(s)

NEW June 13, 2017:


Is Artwork Embedded v1.0
Detects if a track's file's metadata contain image information
Doug's Check for Update Applet
30 Most Recent RSS Feed