OS X 10.8 and later only. Apps and some AppleScript applets from this website already have a "Check for Update..." menu command. But for those that don't this applet/droplet can check for the latest version. Double-click to launch and choose an AppleScript via an Open Panel or just drag-and-drop an AppleScript to its icon to initiate the check.
Action shot: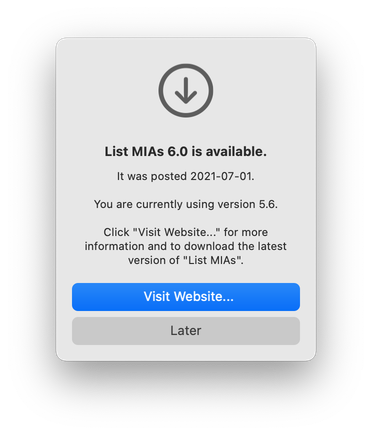 Click the "Visit Website" button to go to the script's entry page at dougscripts.com.
Info:

file format:

Cocoa-AppleScript (Droplet)

Gatekeeper Security:

Authorized Apple Developer ID

written by

Doug Adams

current version downloads:

550 |

total downloads:

2150

.zip download size:

347.3K
Perhaps Also of Interest...
10 Most Recently Added
UPDATED yesterday:


Remove n Characters From Front or Back v5.7
Delete characters from the beginning or ending of selected tracks' name, artist, album, comments, composer, or show tags

UPDATED yesterday:


This Tag That Tag v4.9
Applet assists with swapping, copying, appending data between track tags

UPDATED 5 days ago:


Increment Number Tags v2.5
Set choice of various number tags of selected tracks incrementally

UPDATED 11 days ago:


PDF Adder v5.4
Assists with tagging and adding PDF files to iTunes

UPDATED March 1, 2017:


Trackographer v5.0
Log playing tracks to text file

UPDATED February 28, 2017:


Re-Embed Artwork v2.3
Exports and then re-imports selected tracks' artwork

UPDATED February 26, 2017:


Audition End v2.0
Play each track in playlist starting at user-set seconds from end

NEW February 8, 2017:


Launch at Login v1.0
Ensure a volume is mounted at startup and then launch iTunes

UPDATED December 15, 2016:


Re-Apply Downsized Artwork v3.3
Resample selected tracks' artwork to user-set size limit

UPDATED December 15, 2016:


Unplayed Albums to Playlist v1.3
Copies complete unplayed music albums to playlist
Doug's Check for Update Applet
30 Most Recent RSS Feed