This script will re-embed artwork downloaded from the iTunes Store into the files of the selected tracks.
Also see Re-Embed Artwork.
NOTE: this script cannot handle processing more than about an album's worth of tracks per launch due to the way iTunes manages the graphics data.
Note: (August 2014) Not sure what the issue is but results are inconsistent with modern versions of iTunes.
(Note: In order to launch this PowerPC-era script on an Intel machine, it must first be opened and then saved using AppleScript Editor, which is located in your /Applications/Utilities/ folder. More information is here.)
Latest version:

Info:
Popular Now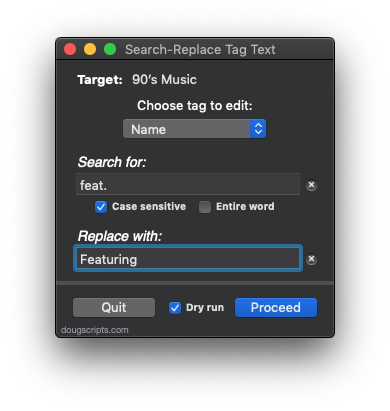 Perform search-and-replace on text in your choice of tags
Parse Song Names and reassign the parts to other tags
Re-associate batch of dead tracks with files from selected folder
Exports and then re-imports selected tracks' artwork
Swap the name with the artist of selected tracks
Correct song titles listed as "Artist - Song Name"
10 Most Recently Added: