This script performs a search for guitar tabs on the Ultimate Guitar site for the currently playing or selected track. Visit the author's website.

Based on the now-outdated OLGA Tabulature Search script (OLGA is defunct) written by Michael Clabough.
Info:

file format:

Script

Gatekeeper Security:

None

written by

Ricky Brigante

total downloads:

3383

download size:

222.7K
Perhaps Also of Interest...
Popular Now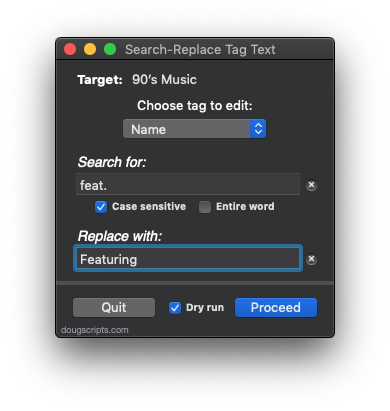 downloaded 6m 50s ago
Perform search-and-replace on text in your choice of tags
downloaded 11m 29s ago
Correct song titles listed as "Artist - Song Name"
downloaded 12m 36s ago
Rename selected tracks' Song Names with their filenames (minus extension)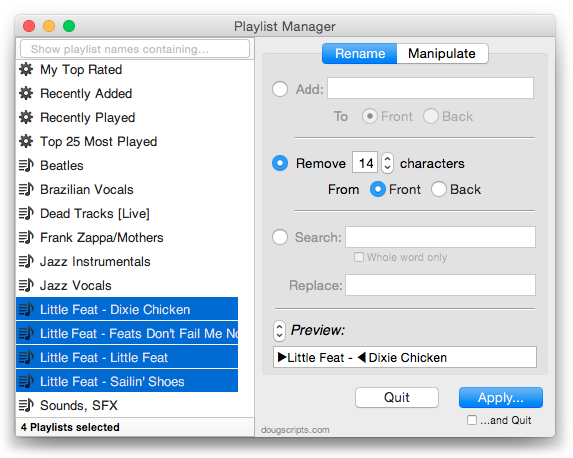 downloaded 29m 30s ago
Perform tasks on a batch of playlists; rename, delete, duplicate, merge, more
downloaded 32m 41s ago
Use special track to stop iTunes, cue next track
10 Most Recently Added
UPDATED 13 days ago:


Flush Apple Music Cache Files v1.0
Delete files downloaded and cached by Apple Music

UPDATED September 7, 2015:


Playlist Manager v2.5
Perform tasks on a batch of playlists; rename, delete, duplicate, merge, more

UPDATED September 6, 2015:


Playlists Info v1.4
Display and export playlists' name, size, time, and track count for selected source

UPDATED September 6, 2015:


Show In Playlists v1.3
Continuously display playlists containing selected/playing track(s)

UPDATED September 5, 2015:


List MIAs v4.3
Display, create text file listing info of dead tracks

UPDATED September 5, 2015:


Super Remove Dead Tracks v4.4
Remove iTunes tracks disassociated from files

UPDATED August 31, 2015:


Tracks Without Embedded Artwork v1.2
Gather audio tracks whose files contain no artwork metadata

UPDATED August 30, 2015:


Track Down Purchases v3.3
Sort purchased tracks into discrete playlists by name or Apple ID

UPDATED August 27, 2015:


Assimilate View Options v4.0
Recreate a playlist such that its visible columns mirror the Music library

UPDATED August 17, 2015:


Remove Leading-Trailing Spaces v1.2
Removes leading and trailing space characters from chosen tags in selected tracks
30 Most Recent RSS Feed