This script uses the UNIX qlmanage command to display a Quick Look window of the selected track(s), which can be audio, video, and, perhaps most usefully, PDF, whereby Preview.app is not necessary. Also handy for playing a single track out of playlist context. Need I add that a keyboard shortcut makes this very handy.
Caveats: 1) under Leopard a media file will begin playing immediately, so the script uses a hack to prevent this, 2) under Snow Leopard and better the QL window's title contains "[DEBUG]" which cannot be suppressed, and 3) the QL window can only be dismissed by clicking on its close box.
Perhaps of Interest...
Popular Now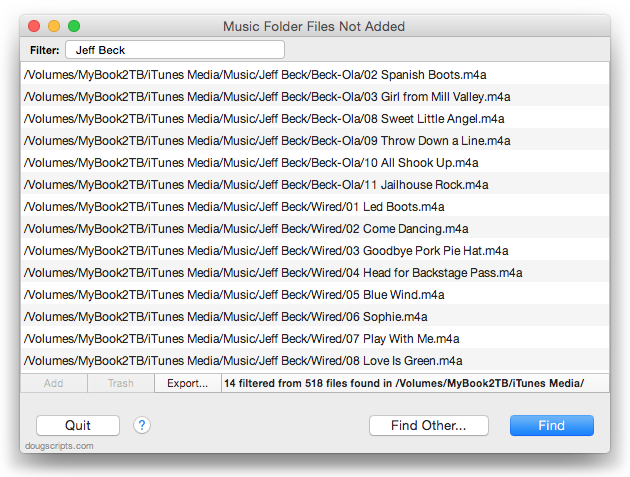 downloaded 9m 14s ago
Use special track to stop iTunes, cue next track
downloaded 10m 44s ago
Services menu service copies selected text to the lyrics of the single selected iTunes track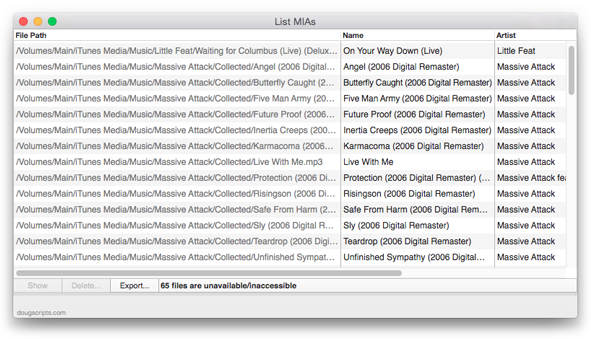 downloaded 18m 7s ago
Display, create text file listing info of dead tracks
10 Most Recently Added
NEW yesterday:


Playlists Info v1.0
Display and export playlists' name, size, time, and track count for selected source

UPDATED 10 days ago:


Save Album Art to Album Folder v5.1
Export artwork of selected tracks to parent or specified folder

UPDATED 10 days ago:


Save Album Art as folder.jpg v3.1
Export album artwork as folder.jpg to Album folder

UPDATED January 14, 2015:


Lyrics to TextEdit v2.0
Send the lyrics of the playing or selected track(s) to TextEdit

UPDATED January 10, 2015:


Batch Export Playlists v1.4
Export selected playlists as individual XML or M3U files

NEW January 9, 2015:


Duplicate Playlist Folder as Playlist v1.0
Duplicate tracks from all levels of a selected Playlist Folder to a new playlist

NEW December 31, 2014:


Remove Leading-Trailing Spaces v1.0
Removes leading and trailing space characters from chosen tags in selected tracks

UPDATED December 16, 2014:


Clipboard to Lyrics Scripts v2.0
Two scripts copy text from clipboard to current or single selected track's lyrics tag

UPDATED December 16, 2014:


Year of Release Date to Year v2.0
Set year of selected tracks to their release date's year (if available)

UPDATED December 15, 2014:


Albums Assemble v1.1
Gather all tracks of selected tracks' albums to single playlist
30 Most Recent RSS Feed