For macOS 10.10 and later only. This applet checks your entire iTunes library for missing and presumed dead tracks--those tracks that iTunes is unable to associate with a file and which are listed in iTunes with a "!"--and can create a text file listing these tracks by last known File Path (if available), Song Name, Artist and Album, which you can view using TextEdit.
Also see Music Folder Files Not Added
To find and delete dead tracks see Super Remove Dead Tracks.
Action shot: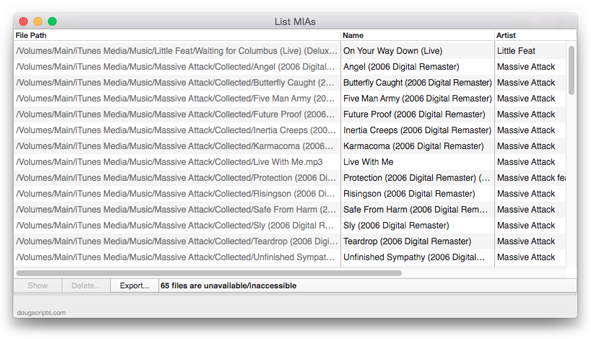 iTunes can't find the files pointed to by the Location property of these track entries.
Latest version:
December 5, 2016
Fixes compatibility issue with macOS 10.10
v4.6 (october 15, 2016):
Additional support for macOS 10.12
Minor maintenance
This version for macOS 10.10 and later only
Further:
Info:

file format:

Application (Applet)

Gatekeeper Security:

Authorized Apple Developer ID

written by

Doug Adams

current version downloads:

839 |

total downloads:

40276

.zip download size:

508.7K

older PPC/universal version:

direct download

older pre-OS X 10.11 version:

direct download
A/V:
Perhaps Also of Interest...
10 Most Recently Added