OS X 10.8 and later only. This script will display an alphabetical list of your choice of the Albums, Artists, Album Artists, Composers, Genres, Groupings, Shows, or Track Names in a selected iTunes library (Music, Movies, TV Shows, and so on) or playlist. This list can then be saved to a text file.
This script used to create a text file of selected tags in the entire iTunes library only, but I have kept its old (and perhaps less-descriptive name) for legacy purposes.
Action shot: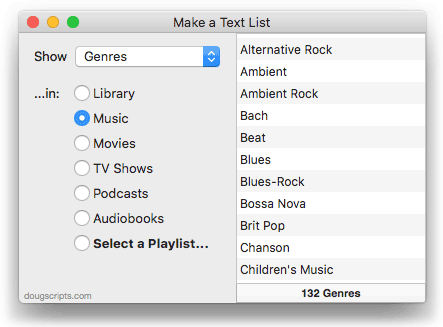 Select a tag and library or playlist and the script will display an alphabetical list of your choice. The list is exportable to a text file.
Latest version:
January 13, 2016
Fixes a minor compatibility issue that prevented launch under OS X 10.9
v3.0:
Can now select from libraries and playlists
Adds Sorting tags
Adds display of tags in the interface
Generally updated from 2008's 2.0 version
Further:
Info:

file format:

Cocoa-AppleScript (Applet)

Gatekeeper Security:

Authorized Apple Developer ID

written by

Doug Adams

current version downloads:

349 |

total downloads:

16540

.zip download size:

359.6K

older PPC/universal version:

direct download
Perhaps Also of Interest...
10 Most Recently Added
UPDATED 6 days ago:


Loved Playlists v1.1
Batch-edit playlists' Love and Dislike settings

UPDATED 7 days ago:


Copy Tag Info Tracks to Tracks v5.0
Copy chosen tag info from one set of tracks to a different set of tracks

UPDATED August 13, 2016:


Album Rating Reset v3.0
Batch-change the Album Rating for the albums of selected tracks

UPDATED August 7, 2016:


Proper English Title Capitalization v3.1
Title Cap various track tags, featuring editable exceptions lists

UPDATED August 6, 2016:


This Tag That Tag v4.7
Applet assists with swapping, copying, appending data between track tags

UPDATED August 6, 2016:


Search-Replace Tag Text v4.6
Perform search-and-replace on text in your choice of tags

UPDATED August 6, 2016:


Remove Leading-Trailing Spaces v1.3
Removes leading and trailing space characters from chosen tags in selected tracks

UPDATED August 5, 2016:


Append to Selected Tag v4.3
Append user-entered text to beginning or ending of selected tag of each selected track

UPDATED August 5, 2016:


Remove n Characters From Front or Back v5.5
Delete characters from the beginning or ending of selected tracks' name, artist, album, comments, composer, or show tags

UPDATED July 20, 2016:


CD Text to CD Info v4.2
Apply selected CD's CD Text to its disc and track tags
Doug's Check for Update Applet
30 Most Recent RSS Feed