OS X 10.8 or later. This application will list the file paths of the files in your designated "iTunes Media" folder which are not in iTunes' track library. Additionally, you can select a different parent folder and its contents will be compared to the iTunes library. Includes options to Add a selection of found files to iTunes, move them to the Trash, and export a text file listing the file paths.
See the video on YouTube.
Action shot:
These files are in my "iTunes Media" folder but do not exist as track entries in iTunes. The tracks may have been deleted from iTunes but, for whatever reason, I did not choose to move their files to the Trash.
Latest version:

October 19, 2014
Fixes issue with mis-reading file paths on OS X 10.9.5 with iTunes 12
v4.2 - October 13 2014:
Fixes window re-sizing issue
Fixes bug preventing some Unicode text from exporting correctly
v4.1 - October 6, 2014:
Fixes Yosemite-compatibility issues

Further:

Info:

file format:

Cocoa-AppleScript (Applet)

Gatekeeper Security:

Authorized Apple Developer ID

written by

Doug Adams

latest version downloads:

1185 |

total downloads:

31189

download size:

347.9K

Last pre-OS X 10.9.5 version:

direct download
Perhaps of Interest...
Popular Now
downloaded 6m 18s ago
Play the selected track and stop
downloaded 7m 31s ago
Export selected playlists as individual XML or M3U files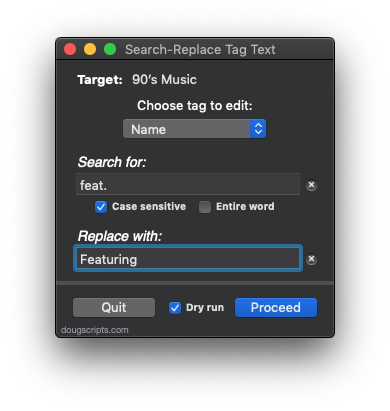 downloaded 17m 34s ago
Perform search-and-replace on text in your choice of tags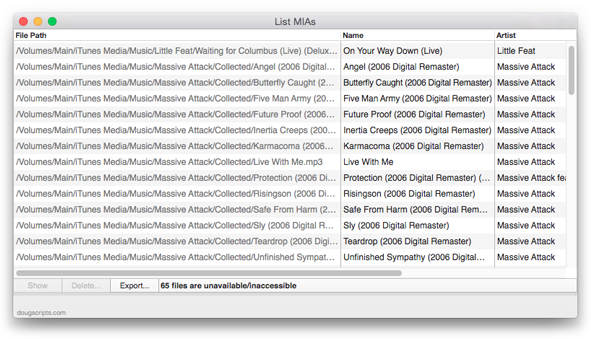 downloaded 22m 8s ago
Display, create text file listing info of dead tracks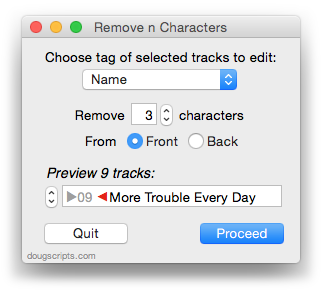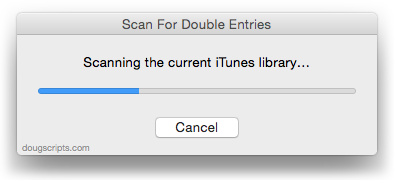 downloaded 30m 44s ago
Locates pairs of track entries pointing to the same file
10 Most Recently Added
NEW 4 days ago:


Playlists Info v1.0
Display and export playlists' name, size, time, and track count for selected source

UPDATED 13 days ago:


Save Album Art to Album Folder v5.1
Export artwork of selected tracks to parent or specified folder

UPDATED 13 days ago:


Save Album Art as folder.jpg v3.1
Export album artwork as folder.jpg to Album folder

UPDATED January 14, 2015:


Lyrics to TextEdit v2.0
Send the lyrics of the playing or selected track(s) to TextEdit

UPDATED January 10, 2015:


Batch Export Playlists v1.4
Export selected playlists as individual XML or M3U files

NEW January 9, 2015:


Duplicate Playlist Folder as Playlist v1.0
Duplicate tracks from all levels of a selected Playlist Folder to a new playlist

NEW December 31, 2014:


Remove Leading-Trailing Spaces v1.0
Removes leading and trailing space characters from chosen tags in selected tracks

UPDATED December 16, 2014:


Clipboard to Lyrics Scripts v2.0
Two scripts copy text from clipboard to current or single selected track's lyrics tag

UPDATED December 16, 2014:


Year of Release Date to Year v2.0
Set year of selected tracks to their release date's year (if available)

UPDATED December 15, 2014:


Albums Assemble v1.1
Gather all tracks of selected tracks' albums to single playlist
30 Most Recent RSS Feed