OS X 10.8 or later. This application will list the file paths of the files in your designated "iTunes Media" folder which are not in iTunes' track library. Additionally, you can select a different parent folder and its contents will be compared to the iTunes library. Includes options to Filter results, Add a selection of found files to iTunes (Mobile Applications can not be added this way), move them to the Trash, and Export a text file listing the file paths.
The original name of the "iTunes Media" folder was "iTunes Music". That's why this script is named the way it is.
Action shot:
These files are in my "iTunes Media" folder but do not exist as track entries in iTunes. The tracks may have been deleted from iTunes but, for whatever reason, I did not choose to move their files to the Trash.
Latest version:
August 8, 2015
Fixes issue aligning "Filter" field at initial launch
v5.0 (july 20, 2015):
Can identify PDF, Mobile Application, iTunes LP and iTunes Extra files when used with iTunes 12.2 or later
Adds Filter option
Performance tweaks
v4.5 (july 1, 2015):
Accommodates changes in iTunes 12.2
Preliminary support for OS X 10.11 (El Capitan)
Further:
Info:

file format:

Cocoa-AppleScript (Applet)

Gatekeeper Security:

Authorized Apple Developer ID

written by

Doug Adams

latest version downloads:

296 |

total downloads:

33512

download size:

413.6K

download ⬇

Current v5.1

Use it free for 10 days.
Like it? It's only $1.99

(via in-app purchase)
A/V:
Perhaps Also of Interest...
Popular Now
downloaded 28m 5s ago
Change file type to make selected AACs bookmarkable
downloaded 38m 40s ago
Convert selected tracks and export the converted files to a new folder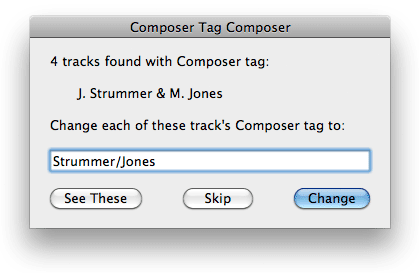 downloaded 39m 2s ago
Manage composer tags via search-and-replace
downloaded 49m 6s ago
Batch set new Last Played/Last Skipped of selected tracks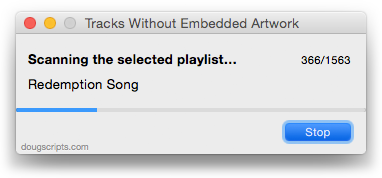 downloaded 53m 51s ago
Apply selected CD's CD Text to its disc and track tags
10 Most Recently Added