OS X 10.8 or later. This application will list the file paths of the files in your designated "iTunes Media" folder which are not in iTunes' track library. Additionally, you can select a different parent folder and its contents will be compared to the iTunes library. Includes options to Filter results, Add a selection of found files to iTunes (Mobile Applications can not be added this way), move them to the Trash, and Export a text file listing the file paths.
The original name of the "iTunes Media" folder was "iTunes Music". That's why this script is named the way it is.
Action shot: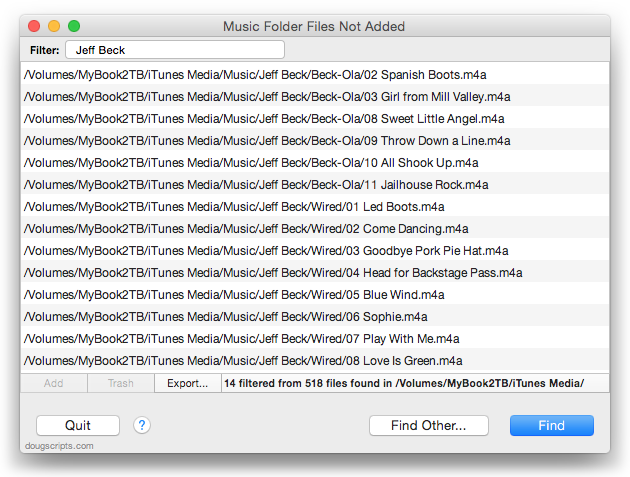 These files are in my "iTunes Media" folder but do not appear as track entries in iTunes. The tracks may have been deleted from iTunes but, for whatever reason, I did not choose to move their files to the Trash.
Latest version:
June 20, 2016
Preliminary support for macOS 10.12
Maintenance and security updates
v5.3:
Accommodates changes in iTunes 12.4
Maintenance, speed and security improvements
Further:
Info:

file format:

Cocoa-AppleScript (Applet)

Gatekeeper Security:

Authorized Apple Developer ID

written by

Doug Adams

current version downloads:

642 |

total downloads:

36771

.zip download size:

420.6K

download ⬇

Current v5.4

Use it free for 10 days.
Like it? It's only $1.99

(via in-app purchase)
A/V:
Perhaps Also of Interest...
10 Most Recently Added
NEW 14 days ago:


Work and Movement Scripts v1.0
Three scripts assist with editing Work and Movement tags

UPDATED September 13, 2016:


Loved Playlists v1.2
Batch-edit playlists' Love and Dislike settings

UPDATED September 12, 2016:


Search-Replace Tag Text v4.7
Perform search-and-replace on text in your choice of tags

UPDATED September 6, 2016:


Create Archive of Selected v2.0
Create a .zip archive of the files of selected tracks

UPDATED September 5, 2016:


Make A Text List v4.0
Display/export a text file list of chosen tag data in library or playlist

UPDATED September 4, 2016:


Playlists Info v1.5
Display and export playlists' name, size, time, track count, love/dislike for selected source

UPDATED September 1, 2016:


Multi-Item Edit v5.0
View/Edit tags of selected track(s) in single window

UPDATED August 24, 2016:


Copy Tag Info Tracks to Tracks v5.0
Copy chosen tag info from one set of tracks to a different set of tracks

UPDATED August 13, 2016:


Album Rating Reset v3.0
Batch-change the Album Rating for the albums of selected tracks

UPDATED August 7, 2016:


Proper English Title Capitalization v3.1
Title Cap various track tags, featuring editable exceptions lists
Doug's Check for Update Applet
30 Most Recent RSS Feed