OS X 10.8 or later only. This applet plays each track in the selected iTunes playlist for a set time interval optionally starting at a set number of seconds into each track, beginning with the selected track. Handy for 'scoping playlists.
Needle Drop will work best on tracks that have local files. Un-cached tracks streamed from the cloud may upset timing while audio is being downloaded.
Action shot: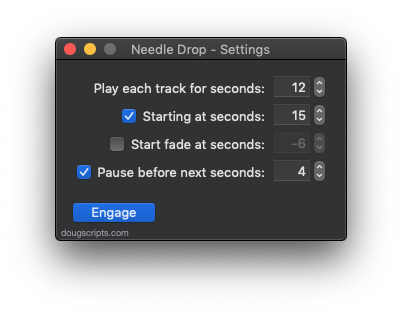 Settings are saved between launches.
Info:

file format:

Cocoa-AppleScript (Applet)

Gatekeeper Security:

Authorized Apple Developer ID

written by

Doug Adams

current version downloads:

435 |

total downloads:

65445

.zip download size:

362.9K

older PPC/universal version:

direct download
Perhaps Also of Interest...
10 Most Recently Added
UPDATED 6 days ago:


List MIAs v4.7
Display, create text file listing info of dead tracks

NEW 14 days ago:


Display File Path v1.0
Continuously update a floating display with file path of selected tracks

UPDATED November 25, 2016:


Proper English Title Capitalization v3.3
Title Cap various track tags, featuring editable exceptions lists

UPDATED November 25, 2016:


Convert and Replace v2.3
Convert selected tracks and replace them with converted versions

UPDATED November 25, 2016:


Copy Tracks to Multiple Playlists v3.2
Copy selected tracks to multiple playlists

UPDATED November 25, 2016:


Album Rating Reset v3.1
Batch-change the Album Rating for the albums of selected tracks

UPDATED November 23, 2016:


Block Party! v3.7
Create a playlist of random Artists and set number of random songs back-to-back

UPDATED November 23, 2016:


Tracks Without Embedded Artwork v1.5
Gather audio tracks whose files contain no artwork metadata

UPDATED November 22, 2016:


File Renamer v3.5
Use tag data to formulate new file name for selected tracks' files

UPDATED November 22, 2016:


Show In Playlists v1.7
Continuously display playlists containing selected/playing track(s)
Doug's Check for Update Applet
30 Most Recent RSS Feed