For macOS 10.10 and later only. This applet plays each track in the selected iTunes playlist for a set time interval optionally starting at a set number of seconds into each track, beginning with the selected track. Handy for 'scoping playlists.
Needle Drop will work best on tracks that have local files. Un-cached tracks streamed from the cloud may upset timing while audio is being downloaded.
Also see Audition End.
Action shot: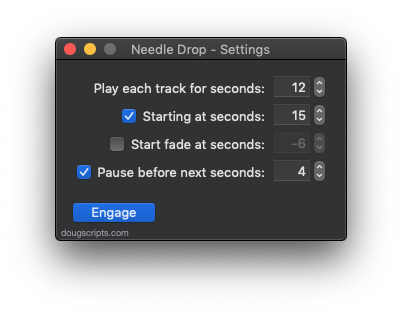 Settings are saved between launches.
Latest version:
December 13, 2016
Stays-open while running and between engagements
Select to stop iTunes when dis-engaging
Minor maintenance and UI enhancements
This version for macOS 10.10 and later only
Further:
Info:

file format:

Application (Applet)

Gatekeeper Security:

Authorized Apple Developer ID

written by

Doug Adams

current version downloads:

381 |

total downloads:

65833

.zip download size:

368.5K

older PPC/universal version:

direct download

older pre-OS X 10.10 version:

direct download
Perhaps Also of Interest...
10 Most Recently Added