Set Last Played/Last Skipped date of selected tracks to a new date, with option to increase or decrease Plays/Skips.
OS X 10.6 or better only. Previous universal version available at the link below in the "Info" section.
Also see Add or Subtract Play Count.
Action shot:
Like so. The Last Played date of the selected tracks will be set to January 9, 2012 at 10:07 and the Plays will be decreased by 1. The latter is an option that can be toggled on and off with the checkbox.
Popular Now
Remove iTunes tracks disassociated from files
Rename selected tracks' Song Names with their filenames (minus extension)
Copy Artist to Album Artist of selected tracks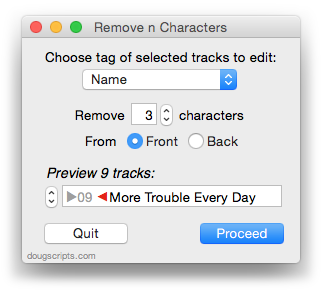 Correct song titles listed as "Artist - Song Name"
Exports and then re-imports selected tracks' artwork
10 Most Recently Added: