For macOS 10.10 and later. Set Last Played/Last Skipped date of selected tracks to a new date, with option to increase or decrease Plays/Skips, or set to no date and no Plays/Skips.
Also see Add or Subtract Play Count.
iCloud Music Library/Apple Music users should be aware of a potential bug.
Action shot: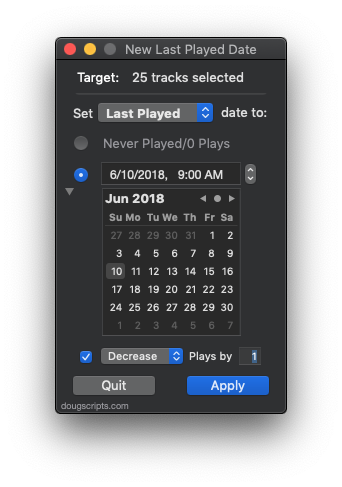 Like so. The Last Played date of the selected tracks will be set to June 10, 2014 at 9:45AM and the Plays will be decreased by 3. The latter is an option that can be toggled on and off with the checkbox.
Info:

file format:

Application (Applet)

Gatekeeper Security:

Authorized Apple Developer ID

written by

Doug Adams

current version downloads:

138 |

total downloads:

6106

.zip download size:

408.8K

older PPC/universal version:

direct download

older pre-OS X 10.9 version:

direct download

older pre-OS X 10.10 version:

direct download
Perhaps Also of Interest...
Popular Now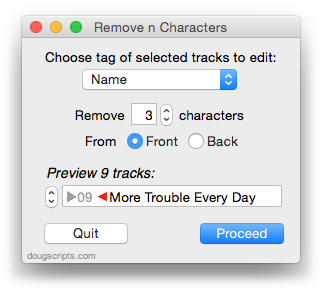 downloaded 10m 40s ago
Exports and then re-imports selected tracks' artwork
downloaded 22m 22s ago
Reset history properties of selected tracks to default values
downloaded 31m 53s ago
Correct song titles listed as "Artist - Song Name"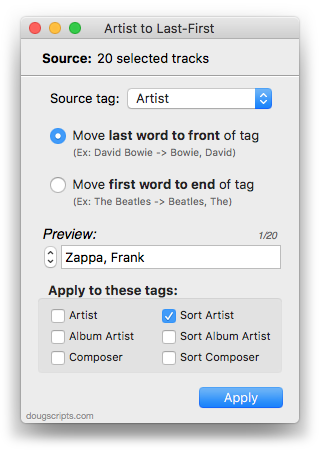 downloaded 33m 34s ago
Edit artist/composer-related tags text for sorting purposes
10 Most Recently Added