Set the Plays ("Play Count" before iTunes v9.2) of the selected tracks to a user-entered number (they will all be set to the same number). If this number is 0 then the Last Played date of each track will be erased. (iTunes has the ability to "Reset Plays" to 0 from a track's contextual menu.)

Also see Add or Subtract Play Count and New Last Played Date.
Apple Music users should beware of a potential bug.
Info:

file format:

Script Bundle

Gatekeeper Security:

None

written by

Doug Adams

current version downloads:

19767 |

total downloads:

27199

.zip download size:

222.2K
Perhaps Also of Interest...
Popular Now
downloaded 4m 13s ago
Change file type to make selected AACs bookmarkable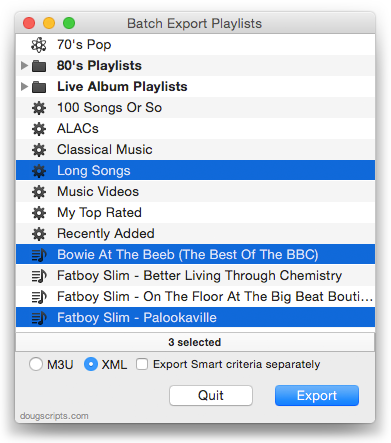 downloaded 7m 7s ago
Export selected playlists as individual XML or M3U files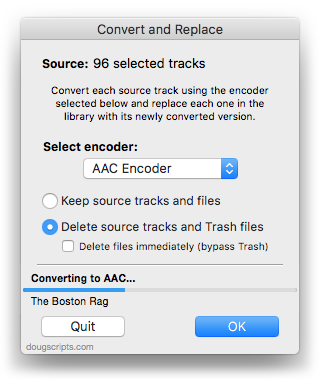 downloaded 19m 38s ago
Convert selected tracks and replace them with converted versions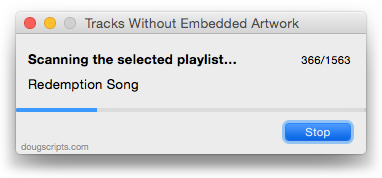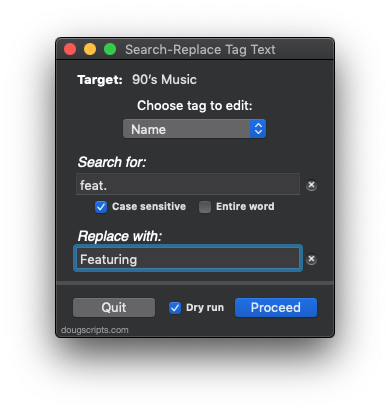 downloaded 27m 53s ago
Perform search-and-replace on text in your choice of tags

downloaded 35m 57s ago
Select iPod tracks in iTunes and add them to iTunes
10 Most Recently Added
NEW 13 days ago:


Launch at Login v1.0
Ensure a volume is mounted at startup and then launch iTunes

UPDATED December 15, 2016:


Re-Apply Downsized Artwork v3.3
Resample selected tracks' artwork to user-set size limit

UPDATED December 15, 2016:


Unplayed Albums to Playlist v1.3
Copies complete unplayed music albums to playlist

UPDATED December 14, 2016:


New Last Played Date v4.3
Batch set new Last Played/Last Skipped of selected tracks

UPDATED December 13, 2016:


Needle Drop v6.0
Play through each track in a playlist at your set interval

UPDATED December 11, 2016:


Sundry Info To Comments v4.2
Paste non-ID3 Tag track and file-related info into Category, Comments, Description or Episode ID tag

UPDATED December 11, 2016:


Set Video Kind of Selected v5.3
Change video kind and video related tags of selected video tracks

UPDATED December 11, 2016:


Multi-Item Edit v5.1
View/Edit tags of selected track(s) in single window

UPDATED December 11, 2016:


Sort by Artwork Size v1.3
Write size of track's artwork to chosen tag or copy tracks with artwork of certain size to playlist

UPDATED December 5, 2016:


List MIAs v4.7
Display, create text file listing info of dead tracks
Doug's Check for Update Applet
30 Most Recent RSS Feed