OS X 10.8 and later. These two AppleScripts each assist with adding PDF files to iTunes as PDF tracks. Each provides a method for easily supplying Artist, Album Artist, Album, Genre, Year, Rating, Loved and Comments tag data which is then applied to the newly-added PDF track entry:
Add as PDF to iTunes is a PDF Service workflow that, when installed, will be available in the PDF pop-up menu of the Print Dialog. It allows you to save the current document as a PDF file (from any application that uses the Print Dialog) and add it to iTunes. I describe here how I use it with Safari Reader.
PDF Adder is an applet/droplet that will let you choose or drag-and-drop an existing PDF file and add it to iTunes. It can be installed in iTunes' Scripts folder for easy access from iTunes Script menu.
Here are some suggestions for your own "digital booklet" PDFs:
Album lyrics/liner notes
Music production notes
Manuals
Receipts/order confirmations
DJ set lists
Podcast addenda
Audiobook chapter synopses
Lecture notes
Sound effects indexes
Anything you can print, you can make into a PDF...and any PDF can be added to iTunes.
Action shot: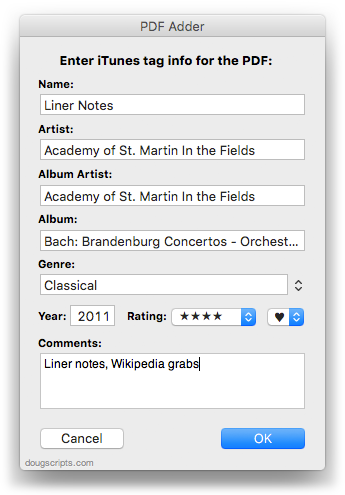 Each script displays a window like this one before adding the PDF to iTunes.
Latest version:
February 25, 2016
Adds Album Artist field
Adds Loved rating
Uses Comments instead of Description
Limits Comments entry to 255 characters
Minor maintenance
Further:
Info:

file format:

Cocoa-AppleScript (Applet)

Gatekeeper Security:

Authorized Apple Developer ID

written by

Doug Adams

current version downloads:

243 |

total downloads:

18691

.zip download size:

412.6K

older PPC/universal version:

direct download

older pre-OS X 10.9 version:

direct download

older pre-OS X 10.10 version:

direct download
Perhaps Also of Interest...
10 Most Recently Added
NEW 13 days ago:


Launch at Login v1.0
Ensure a volume is mounted at startup and then launch iTunes

UPDATED December 15, 2016:


Re-Apply Downsized Artwork v3.3
Resample selected tracks' artwork to user-set size limit

UPDATED December 15, 2016:


Unplayed Albums to Playlist v1.3
Copies complete unplayed music albums to playlist

UPDATED December 14, 2016:


New Last Played Date v4.3
Batch set new Last Played/Last Skipped of selected tracks

UPDATED December 13, 2016:


Needle Drop v6.0
Play through each track in a playlist at your set interval

UPDATED December 11, 2016:


Sundry Info To Comments v4.2
Paste non-ID3 Tag track and file-related info into Category, Comments, Description or Episode ID tag

UPDATED December 11, 2016:


Set Video Kind of Selected v5.3
Change video kind and video related tags of selected video tracks

UPDATED December 11, 2016:


Multi-Item Edit v5.1
View/Edit tags of selected track(s) in single window

UPDATED December 11, 2016:


Sort by Artwork Size v1.3
Write size of track's artwork to chosen tag or copy tracks with artwork of certain size to playlist

UPDATED December 5, 2016:


List MIAs v4.7
Display, create text file listing info of dead tracks
Doug's Check for Update Applet
30 Most Recent RSS Feed