OS X 10.9 or later. iTunes only allows one playlist to be selected at a time. This applet can perform common useful tasks on a multiple selection of playlists: rename (add text, remove text, search and replace text), duplicate, delete, export, merge.
Action shot: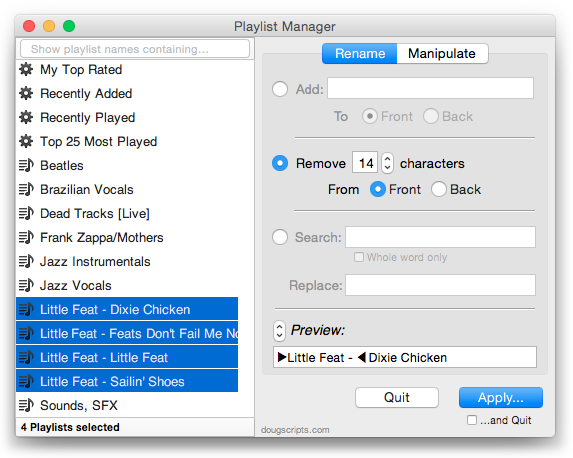 Tools in the Rename tab operate on the selected playlists' names
Latest version:
September 7, 2015
Correctly identifies Genius playlists in iTunes 12.2 and later
v2.4 (September 3, 2015)
Fixes problem exporting M3U file on some localizations
Fixes UI conflicts between older and newer OSs
Correctly clears Preview field on refresh
Further:
Info:

file format:

Cocoa-AppleScript (Applet)

Gatekeeper Security:

Authorized Apple Developer ID

written by

Doug Adams

current version downloads:

754 |

total downloads:

4972

download size:

505.3K

download ⬇

Current v2.5

Use it free for 10 days.
Like it? It's only $1.99

(via in-app purchase)
Perhaps Also of Interest...
10 Most Recently Added