OS X 10.8 or later. iTunes only allows one playlist to be selected at a time. This applet can perform common useful tasks on a multiple selection of playlists: rename (add text, remove text, search and replace text), duplicate, delete, export, merge.
Action shot:
Tools in the Rename tab operate on the selected playlists' names
Latest version:

November 7, 2014
Adds support for OS X 10.10 Yosemite/iTunes 12
Adds window autosave; remembers size and position
Duplicates to source playlist folder
Adds "Check for Update" command
Access online Help
Adds ten day trial
Minor tweaks and fixes to enhance performance

Further:

Info:

file format:

Cocoa-AppleScript (Applet)

Gatekeeper Security:

Authorized Apple Developer ID

written by

Doug Adams

latest version downloads:

268 |

total downloads:

3632

download size:

417.6K

Last pre-OS X 10.9 version:

direct download
Perhaps of Interest...
Popular Now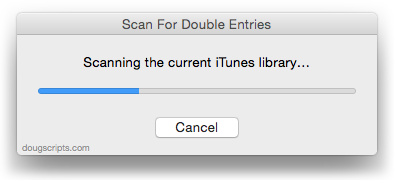 downloaded 1m 48s ago
Locates pairs of track entries pointing to the same file
downloaded 13m 52s ago
Re-locate files of selected tracks to new folder, preserve track meta-data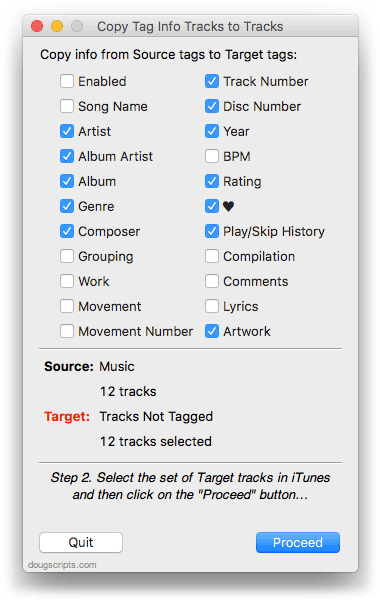 downloaded 22m 32s ago
Rename selected tracks' Song Names with their filenames (minus extension)
downloaded 25m 8s ago
Put filename to comments
10 Most Recently Added
NEW yesterday:


Playlists Info v1.0
Display and export playlists' name, size, time, and track count for selected source

UPDATED 10 days ago:


Save Album Art to Album Folder v5.1
Export artwork of selected tracks to parent or specified folder

UPDATED 10 days ago:


Save Album Art as folder.jpg v3.1
Export album artwork as folder.jpg to Album folder

UPDATED January 14, 2015:


Lyrics to TextEdit v2.0
Send the lyrics of the playing or selected track(s) to TextEdit

UPDATED January 10, 2015:


Batch Export Playlists v1.4
Export selected playlists as individual XML or M3U files

NEW January 9, 2015:


Duplicate Playlist Folder as Playlist v1.0
Duplicate tracks from all levels of a selected Playlist Folder to a new playlist

NEW December 31, 2014:


Remove Leading-Trailing Spaces v1.0
Removes leading and trailing space characters from chosen tags in selected tracks

UPDATED December 16, 2014:


Clipboard to Lyrics Scripts v2.0
Two scripts copy text from clipboard to current or single selected track's lyrics tag

UPDATED December 16, 2014:


Year of Release Date to Year v2.0
Set year of selected tracks to their release date's year (if available)

UPDATED December 15, 2014:


Albums Assemble v1.1
Gather all tracks of selected tracks' albums to single playlist
30 Most Recent RSS Feed