OS X 10.10 and later only. This script will display a sortable list of playlists from the selected source along with their size, time, number of tracks and Love/Dislike status. Additionally, the script can export a text file listing that information.
Action shot: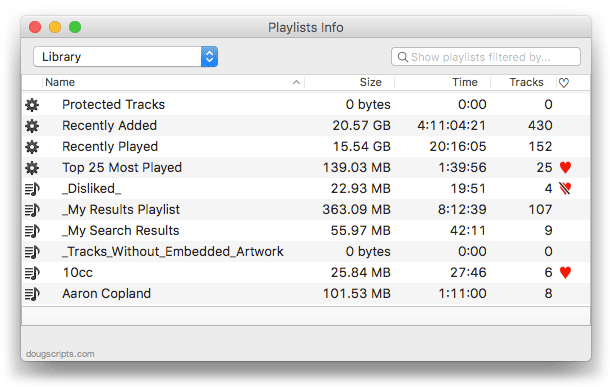 A portion of some of the playlists in my iTunes library.
Info:

file format:

Application (Applet)

Gatekeeper Security:

Authorized Apple Developer ID

written by

Doug Adams

current version downloads:

68 |

total downloads:

942

.zip download size:

380.5K

older pre-OS X 10.10 version:

direct download
Perhaps Also of Interest...
10 Most Recently Added
NEW 14 days ago:


Launch at Login v1.0
Ensure a volume is mounted at startup and then launch iTunes

UPDATED December 15, 2016:


Re-Apply Downsized Artwork v3.3
Resample selected tracks' artwork to user-set size limit

UPDATED December 15, 2016:


Unplayed Albums to Playlist v1.3
Copies complete unplayed music albums to playlist

UPDATED December 14, 2016:


New Last Played Date v4.3
Batch set new Last Played/Last Skipped of selected tracks

UPDATED December 13, 2016:


Needle Drop v6.0
Play through each track in a playlist at your set interval

UPDATED December 11, 2016:


Sundry Info To Comments v4.2
Paste non-ID3 Tag track and file-related info into Category, Comments, Description or Episode ID tag

UPDATED December 11, 2016:


Set Video Kind of Selected v5.3
Change video kind and video related tags of selected video tracks

UPDATED December 11, 2016:


Multi-Item Edit v5.1
View/Edit tags of selected track(s) in single window

UPDATED December 11, 2016:


Sort by Artwork Size v1.3
Write size of track's artwork to chosen tag or copy tracks with artwork of certain size to playlist

UPDATED December 5, 2016:


List MIAs v4.7
Display, create text file listing info of dead tracks
Doug's Check for Update Applet
30 Most Recent RSS Feed