Converts an iTunes Playlist to HTML.
(Note: In order to launch this PowerPC-era script on an Intel machine, it must first be opened and then saved using AppleScript Editor, which is located in your /Applications/Utilities/ folder. More information is here.)
Latest version:

Info:
Popular Now
Remove iTunes tracks disassociated from files
Rename selected tracks' Song Names with their filenames (minus extension)
Copy Artist to Album Artist of selected tracks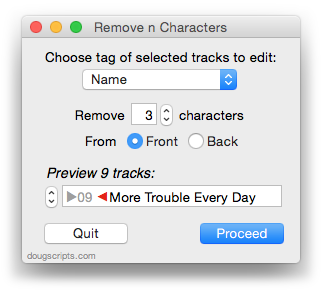 Correct song titles listed as "Artist - Song Name"
Exports and then re-imports selected tracks' artwork
10 Most Recently Added: