OS X 10.8 and later. Convert all or just the selected tracks of the selected Playlist using your choice of available iTunes encoders, restoring your Preferences-set encoder afterwards. Works with importing selected CD tracks, too.
Additionally, you can:
Choose to delete and/or Trash the original tracks and/or files
Copy all converted/imported tracks to a new playlist
Optionally save AAC encoded tracks as M4B "bookmarkable" and re-add the converted files to the Audiobooks (Books) library
Action shot: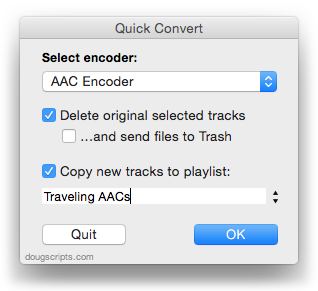 Convert the selected tracks using the AAC encoder, for example. Your default encoder is restored afterwards.
Latest version:
April 9, 2016
Detects if any selected tracks do not have local files, such as cloud, shared or "dead" tracks
Limits threaded activity so as to reduce appearances of busy cursor
Minor maintenance
Further:
Info:

file format:

Cocoa-AppleScript (Applet)

Gatekeeper Security:

Authorized Apple Developer ID

written by

Doug Adams

current version downloads:

246 |

total downloads:

36111

.zip download size:

374.4K

older PPC/universal version:

direct download

older pre-OS X 10.9 version:

direct download

older pre-OS X 10.10 version:

direct download
Perhaps Also of Interest...
Popular Now
downloaded 6m 56s ago
Create a Ringtone track from a selected track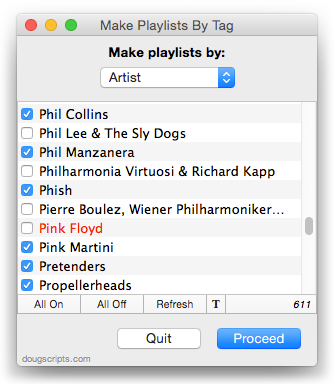 downloaded 45m 49s ago
Create a playlist for each entry of a specified tag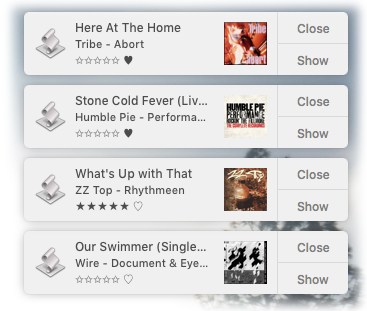 downloaded 45m 53s ago
Displays Rating in a Notification as tracks play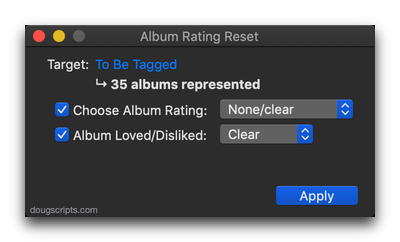 downloaded 47m 20s ago
Batch-change the Album Rating for the albums of selected tracks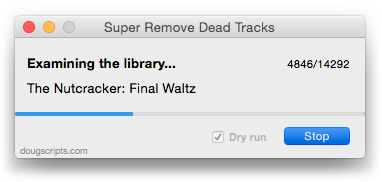 downloaded 49m 43s ago
Remove iTunes tracks disassociated from files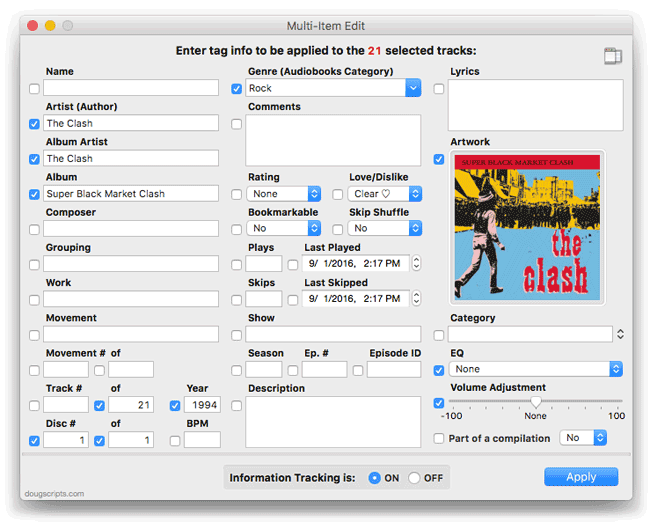 downloaded 1h 13m 8s ago
View/Edit tags of selected track(s) in single window
10 Most Recently Added
NEW 14 days ago:


Work and Movement Scripts v1.0
Three scripts assist with editing Work and Movement tags

UPDATED September 13, 2016:


Loved Playlists v1.2
Batch-edit playlists' Love and Dislike settings

UPDATED September 12, 2016:


Search-Replace Tag Text v4.7
Perform search-and-replace on text in your choice of tags

UPDATED September 6, 2016:


Create Archive of Selected v2.0
Create a .zip archive of the files of selected tracks

UPDATED September 5, 2016:


Make A Text List v4.0
Display/export a text file list of chosen tag data in library or playlist

UPDATED September 4, 2016:


Playlists Info v1.5
Display and export playlists' name, size, time, track count, love/dislike for selected source

UPDATED September 1, 2016:


Multi-Item Edit v5.0
View/Edit tags of selected track(s) in single window

UPDATED August 24, 2016:


Copy Tag Info Tracks to Tracks v5.0
Copy chosen tag info from one set of tracks to a different set of tracks

UPDATED August 13, 2016:


Album Rating Reset v3.0
Batch-change the Album Rating for the albums of selected tracks

UPDATED August 7, 2016:


Proper English Title Capitalization v3.1
Title Cap various track tags, featuring editable exceptions lists
Doug's Check for Update Applet
30 Most Recent RSS Feed