This stay-open applet watches your playing tracks and when an un-rated track starts playing displays a window with a demand it be rated.
While you could easily rate the current track from the iTunes icon in the Dock, this script interrupts you and compels you to do so.
OS X 10.6 or later only. Previous universal version available at the link below in the "Info" section.
You may prefer the more modern Rating Notify.
Action shot: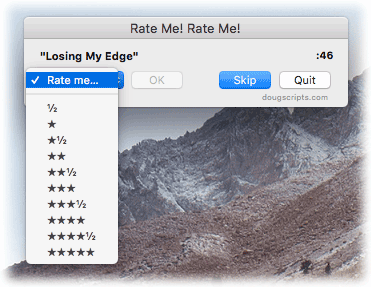 This window will pop up when a new song begins playing.
Info:

file format:

Cocoa-AppleScript (Applet)

Gatekeeper Security:

Authorized Apple Developer ID

written by

Doug Adams

current version downloads:

1302 |

total downloads:

9342

download size:

357.3K

older PPC/universal version:

direct download
Perhaps Also of Interest...
10 Most Recently Added