For macOS 10.10 and later only. This script will "refresh" the selected user-created Smart Playlists by removing the tracks they contain (if possible*) which then obliges them to dynamically repopulate, ostensibly with different tracks.
*Note that tracks cannot be removed from a Smart Playlist which already contains every track of the library meeting its criteria--it would just repopulate with the same tracks. Smart Playlists with the "Limit to" and "Live updating" criteria in use are more likely to be "refreshable".
Also see Refresh Selected Smart Playlist, which works with a single Smart Playlist selected in iTunes.
Action shot: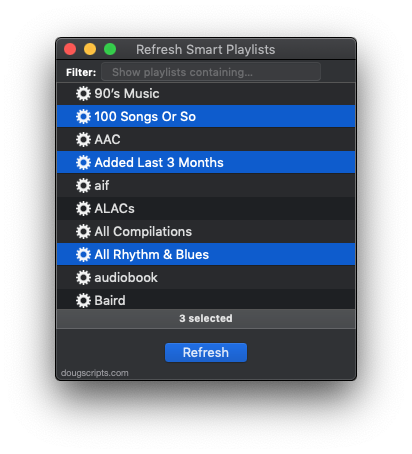 Click "Refresh" to re-populate the selected Smart Playlists.
Latest version:
June 22, 2017
Displays playlists in heirarchical context when approopriate
Double-click a playlist's name to select it in iTunes
Minor performance fixes
v2.1 (may 26, 2017):
Fixes compatibility issue with macOS 10.12.5
Further:
Info:

file format:

Application (Applet)

Gatekeeper Security:

Authorized Apple Developer ID

written by

Doug Adams

current version downloads:

52 |

total downloads:

224

.zip download size:

364.1K
Perhaps Also of Interest...
Popular Now
downloaded 6m 8s ago
Batch-append text to comments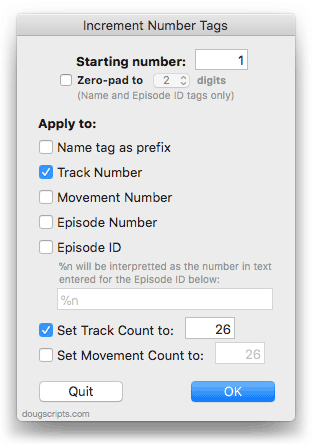 downloaded 11m 21s ago
Set choice of various number tags of selected tracks incrementally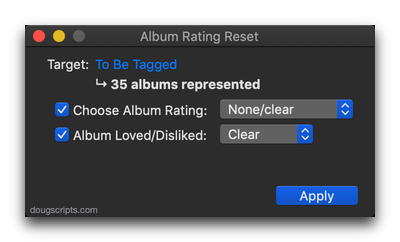 downloaded 36m 48s ago
Batch-change the Album Rating for the albums of selected tracks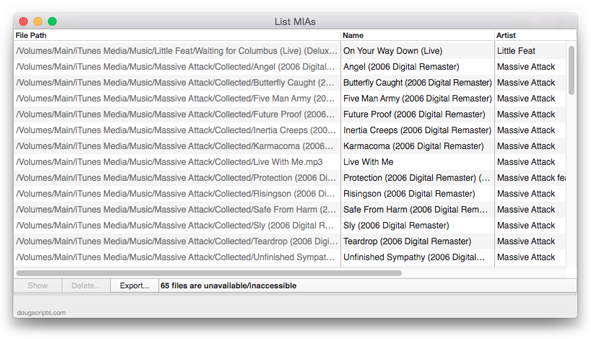 downloaded 52m 4s ago
Display, create text file listing info of dead tracks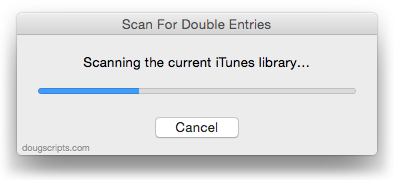 downloaded 53m 12s ago
Locates pairs of track entries pointing to the same file
10 Most Recently Added
NEW 12 days ago:


Coverscope v1.0
View/edit assigned and embeded artwork for selected track

NEW July 1, 2017:


Find Empty iTunes Media Folders v1.0
Finds and displays any empty folders in the iTunes Media folder

UPDATED June 22, 2017:


Refresh Smart Playlists v2.2
Compel selected Smart Playlists to refresh their track contents

UPDATED June 18, 2017:


Convert and Export v4.0
Convert selected tracks and export the converted files to a new folder

UPDATED June 14, 2017:


Merge-Delete Playlists v5.1
Batch merge and/or delete playlists

UPDATED June 13, 2017:


Playlists Info v1.7
Display and export playlists' name, size, time, track count, love/dislike for selected source

UPDATED June 13, 2017:


Show In Playlists v1.9
Continuously display playlists containing selected/playing track(s)

NEW June 13, 2017:


Is Artwork Embedded v1.0
Detects if a track's file's metadata contain image information

UPDATED June 11, 2017:


Batch Export Playlists v2.2
Export selected playlists as individual XML or M3U files

UPDATED June 10, 2017:


Compare Two Playlists v3.2
List tracks common or exclusive to two playlists
Doug's Check for Update Applet
30 Most Recent RSS Feed