iTunes 11 or later, OS X 10.8 or later. Scans iTunes for tracks whose files are inaccessible or no longer available (so-called "dead" tracks, as indicated by a circled "!" next to their names) and removes them. Outputs a tab-delimited text log listing the tracks that were removed by Artist, Name, Album and last known file location. Optional dry run mode allows you to log the tracks that would have been deleted.
Also see List MIAs and Music Folder Files Not Added.
Action shot: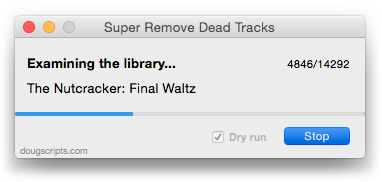 Quickly scans for "dead" tracks and deletes the ones it finds from iTunes.
Info:

file format:

Cocoa-AppleScript (Applet)

Gatekeeper Security:

Authorized Apple Developer ID

written by

Doug Adams

current version downloads:

1489 |

total downloads:

70253

.zip download size:

363.9K

download ⬇

Current v4.5

Use it free for 10 days.
Like it? It's only $1.99

(via in-app purchase)
A/V:
Perhaps Also of Interest...
10 Most Recently Added
NEW 13 days ago:


Work and Movement Scripts v1.0
Three scripts assist with editing Work and Movement tags

UPDATED September 13, 2016:


Loved Playlists v1.2
Batch-edit playlists' Love and Dislike settings

UPDATED September 12, 2016:


Search-Replace Tag Text v4.7
Perform search-and-replace on text in your choice of tags

UPDATED September 6, 2016:


Create Archive of Selected v2.0
Create a .zip archive of the files of selected tracks

UPDATED September 5, 2016:


Make A Text List v4.0
Display/export a text file list of chosen tag data in library or playlist

UPDATED September 4, 2016:


Playlists Info v1.5
Display and export playlists' name, size, time, track count, love/dislike for selected source

UPDATED September 1, 2016:


Multi-Item Edit v5.0
View/Edit tags of selected track(s) in single window

UPDATED August 24, 2016:


Copy Tag Info Tracks to Tracks v5.0
Copy chosen tag info from one set of tracks to a different set of tracks

UPDATED August 13, 2016:


Album Rating Reset v3.0
Batch-change the Album Rating for the albums of selected tracks

UPDATED August 7, 2016:


Proper English Title Capitalization v3.1
Title Cap various track tags, featuring editable exceptions lists
Doug's Check for Update Applet
30 Most Recent RSS Feed