This script will attempt to re-add or replace the display artwork of the selected iPod/iPhone tracks with artwork from a corresponding album's track in your iTunes library.

Your iPod/iPhone must be set to manually manage music.
Action shot: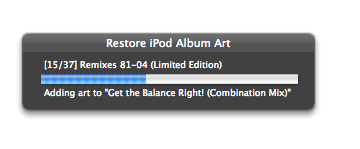 Progress displayed while track artwork is restored on the iPod.
Info:

file format:

Script Bundle

Gatekeeper Security:

None

written by

Doug Adams

current version downloads:

3004 |

total downloads:

8750

.zip download size:

274.7K
Perhaps Also of Interest...
10 Most Recently Added
NEW 6 days ago:


Show Me The Metadata v1.0
Display a selected file's audio and Spotlight metadata

UPDATED 9 days ago:


Divvy Up A Playlist v1.1
Copy tracks from large playlist into smaller time limited playlists

UPDATED 10 days ago:


Coverscope v1.1
View/edit assigned and embeded artwork for selected track

NEW July 1, 2017:


Find Empty iTunes Media Folders v1.0
Finds and displays any empty folders in the iTunes Media folder

UPDATED June 22, 2017:


Refresh Smart Playlists v2.2
Compel selected Smart Playlists to refresh their track contents

UPDATED June 18, 2017:


Convert and Export v4.0
Convert selected tracks and export the converted files to a new folder

UPDATED June 14, 2017:


Merge-Delete Playlists v5.1
Batch merge and/or delete playlists

UPDATED June 13, 2017:


Playlists Info v1.7
Display and export playlists' name, size, time, track count, love/dislike for selected source

UPDATED June 13, 2017:


Show In Playlists v1.9
Continuously display playlists containing selected/playing track(s)

NEW June 13, 2017:


Is Artwork Embedded v1.0
Detects if a track's file's metadata contain image information
Doug's Check for Update Applet
30 Most Recent RSS Feed