OS X 10.8 or later only. This script will export the artwork of the selected tracks (or the tracks in a selected playlist) as an image file to the folder which contains each selected track's file--presumably the track's Album folder--or a single user-selected folder. If multiple album tracks are selected, the script will make sure only one artwork file per Album is exported.
Also see Save Album Art as folder.jpg.
Action shot:
The image output settings will be saved between uses.
Latest version:
February 16, 2015
Adds ten day trial
v5.1:
Maintenance release
v5.0:
Support for OS X 10 Yosemite/iTunes 12
Adds "Check for Update" menu command
Adds "Replace existing image file" toggle to UI
Minor tweaks
Further:
Info:

file format:

Cocoa-AppleScript (Applet)

Gatekeeper Security:

Authorized Apple Developer ID

written by

Doug Adams

latest version downloads:

96 |

total downloads:

33805

download size:

371K

Current v5.2

download ⬇

Try it free for 10 days.
Like it? It's only $1.99

(via in-app purchase)
Perhaps Also of Interest...
Popular Now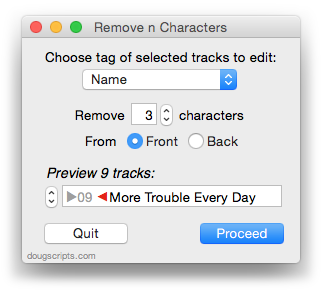 downloaded 37s ago
Set the Album Rating for the album of a selected track to full- and half-stars or computed clear-stars
downloaded 38s ago
Capitalize the first letter of each word in selected track names
downloaded 47s ago
Correct song titles listed as "Artist - Song Name"
downloaded 52s ago
Rename selected tracks' Song Names with their filenames (minus extension)
downloaded 57s ago
Remove iTunes tracks disassociated from files
10 Most Recently Added
UPDATED 2 days ago:


Multi-Item Edit v4.1
View/Edit tags of selected track(s) in single window

UPDATED 3 days ago:


Convert and Export v3.0
Convert selected tracks and export the converted files to a new folder

UPDATED 5 days ago:


Show In Playlists v1.1
Continuously display playlists containing selected/playing track(s)

UPDATED 14 days ago:


Copy Tracks to Multiple Playlists v3.0
Copy selected tracks to multiple playlists

UPDATED February 16, 2015:


Save Album Art to Album Folder v5.2
Export artwork of selected tracks to parent or specified folder

UPDATED February 16, 2015:


Save Album Art as folder.jpg v3.2
Export album artwork as folder.jpg to Album folder

UPDATED February 15, 2015:


Batch Export Playlists v1.5
Export selected playlists as individual XML or M3U files

UPDATED February 15, 2015:


Playlist Manager v2.1
Perform tasks on a batch of playlists; rename, delete, duplicate, merge, more

UPDATED February 13, 2015:


Playlists Info v1.2
Display and export playlists' name, size, time, and track count for selected source

UPDATED February 5, 2015:


PDF Adder v5.1
Assists with tagging and adding PDF files to iTunes
30 Most Recent RSS Feed