For macOS 10.10 and later only. Performs a search-and-replace on the text in your choice of tag (Song Name, Show, Artist, Album Artist, Album, Composer, Comments, Genre, Grouping, Movement or Work) in the selected tracks or all the tracks in the selected Playlist. Features case sensitivity and whole word match options and dry run preview.
Macworld's Dan Miller has posted a video on how he edits track data using this script.
Action shot: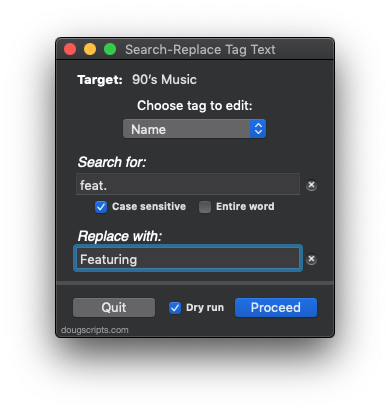 It's a good idea to do a Dry Run to check the results before actually doing the replace.
Latest version:
November 18, 2016
Minor maintenance
This version for macOS 10.10 and later only
v4.7 (september 12 2016):
Fixes a probelm when the MiniPlayer is set to be kept frontmost
v4.6 (august 6 2016):
Adds support for Movement and Work tags (iTunes 12.5 beta and later)
Further:
Info:

file format:

Application (Applet)

Gatekeeper Security:

Authorized Apple Developer ID

written by

Doug Adams

current version downloads:

814 |

total downloads:

47329

.zip download size:

382K

older pre-OS X 10.11 version:

direct download

download ⬇

Current v4.8

Use it free for 10 days.
Like it? It's only $1.99

(via in-app purchase)
Perhaps Also of Interest...
10 Most Recently Added
UPDATED yesterday:


Remove n Characters From Front or Back v5.7
Delete characters from the beginning or ending of selected tracks' name, artist, album, comments, composer, or show tags

UPDATED yesterday:


This Tag That Tag v4.9
Applet assists with swapping, copying, appending data between track tags

UPDATED 5 days ago:


Increment Number Tags v2.5
Set choice of various number tags of selected tracks incrementally

UPDATED 11 days ago:


PDF Adder v5.4
Assists with tagging and adding PDF files to iTunes

UPDATED March 1, 2017:


Trackographer v5.0
Log playing tracks to text file

UPDATED February 28, 2017:


Re-Embed Artwork v2.3
Exports and then re-imports selected tracks' artwork

UPDATED February 26, 2017:


Audition End v2.0
Play each track in playlist starting at user-set seconds from end

NEW February 8, 2017:


Launch at Login v1.0
Ensure a volume is mounted at startup and then launch iTunes

UPDATED December 15, 2016:


Re-Apply Downsized Artwork v3.3
Resample selected tracks' artwork to user-set size limit

UPDATED December 15, 2016:


Unplayed Albums to Playlist v1.3
Copies complete unplayed music albums to playlist
Doug's Check for Update Applet
30 Most Recent RSS Feed