OS X 10.8 or later. This script will change the video kind property of the selected tracks to your choice of "Home Video", "Movie", "Music Video" or "TV Show". Additionally, "Show Name", "Season Number", and incremental "Episode Number" can also be set or cleared for each selected track.
Protected files, such as those purchased from the iTunes Store, cannot be changed.
Action shot:
Enter information for the tags. When you are satisfied with your entries, click the OK button and the changes will be applied to the selected un-protected video tracks.
Latest version:
October 29, 2014
Adds support for OS X 10.10 Yosemite/iTunes 12
Adds "Check for Update" command
Fixes issue detecting selected video tracks
Adds ten day trial
Further:
Info:

file format:

Cocoa-AppleScript (Applet)

Gatekeeper Security:

Authorized Apple Developer ID

written by

Doug Adams

latest version downloads:

422 |

total downloads:

50107

download size:

385.4K

Current v5.0

download ⬇

Try it free for 10 days.
Like it? It's only $1.99

(via in-app purchase)
Perhaps Also of Interest...
Popular Now
downloaded 8m 50s ago
Remove iTunes tracks disassociated from files
downloaded 13m 14s ago
Search for lyric sites with Google using info from the current or selected track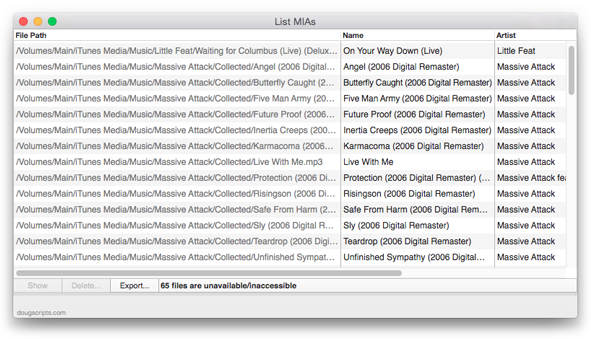 downloaded 21m 48s ago
Display, create text file listing info of dead tracks
downloaded 23m 3s ago
Drag-and-drop to convert audio files with iTunes
downloaded 28m 55s ago
Convert selected tracks and export the converted files to a new folder
downloaded 34m 36s ago
Correct song titles listed as "Artist - Song Name"
10 Most Recently Added
UPDATED 3 days ago:


Multi-Item Edit v4.1
View/Edit tags of selected track(s) in single window

UPDATED 4 days ago:


Convert and Export v3.0
Convert selected tracks and export the converted files to a new folder

UPDATED 6 days ago:


Show In Playlists v1.1
Continuously display playlists containing selected/playing track(s)

UPDATED February 17, 2015:


Copy Tracks to Multiple Playlists v3.0
Copy selected tracks to multiple playlists

UPDATED February 16, 2015:


Save Album Art to Album Folder v5.2
Export artwork of selected tracks to parent or specified folder

UPDATED February 16, 2015:


Save Album Art as folder.jpg v3.2
Export album artwork as folder.jpg to Album folder

UPDATED February 15, 2015:


Batch Export Playlists v1.5
Export selected playlists as individual XML or M3U files

UPDATED February 15, 2015:


Playlist Manager v2.1
Perform tasks on a batch of playlists; rename, delete, duplicate, merge, more

UPDATED February 13, 2015:


Playlists Info v1.2
Display and export playlists' name, size, time, and track count for selected source

UPDATED February 5, 2015:


PDF Adder v5.1
Assists with tagging and adding PDF files to iTunes
30 Most Recent RSS Feed