OS X 10.8 or later. This script will change the video kind property of the selected tracks to your choice of "Home Video", "Movie", "Music Video" or "TV Show". Additionally, "Show Name", "Season Number", and incremental "Episode Number" can also be set or cleared for each selected track.
Protected files, such as those purchased from the iTunes Store, cannot be changed.
WARNING: a possible bug in iTunes 12.4.1 and later prevents this script from working. Until Apple confirms and/or addresses this issue, I do not recommend using this script.
Action shot: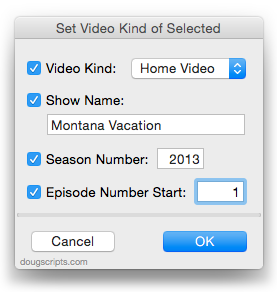 Enter information for the tags. When you are satisfied with your entries, click the OK button and the changes will be applied to the selected un-protected video tracks.
Info:

file format:

Cocoa-AppleScript (Applet)

Gatekeeper Security:

Authorized Apple Developer ID

written by

Doug Adams

current version downloads:

130 |

total downloads:

51040

.zip download size:

390.3K

download ⬇

Current v5.2

Use it free for 10 days.
Like it? It's only $1.99

(via in-app purchase)
Perhaps Also of Interest...
10 Most Recently Added
UPDATED 5 days ago:


List MIAs v4.7
Display, create text file listing info of dead tracks

NEW 13 days ago:


Display File Path v1.0
Continuously update a floating display with file path of selected tracks

UPDATED November 25, 2016:


Proper English Title Capitalization v3.3
Title Cap various track tags, featuring editable exceptions lists

UPDATED November 25, 2016:


Convert and Replace v2.3
Convert selected tracks and replace them with converted versions

UPDATED November 25, 2016:


Copy Tracks to Multiple Playlists v3.2
Copy selected tracks to multiple playlists

UPDATED November 25, 2016:


Album Rating Reset v3.1
Batch-change the Album Rating for the albums of selected tracks

UPDATED November 23, 2016:


Block Party! v3.7
Create a playlist of random Artists and set number of random songs back-to-back

UPDATED November 23, 2016:


Tracks Without Embedded Artwork v1.5
Gather audio tracks whose files contain no artwork metadata

UPDATED November 22, 2016:


File Renamer v3.5
Use tag data to formulate new file name for selected tracks' files

UPDATED November 22, 2016:


Show In Playlists v1.7
Continuously display playlists containing selected/playing track(s)
Doug's Check for Update Applet
30 Most Recent RSS Feed