OS X 10.8 or later. This applet will assist with swapping, copying, and appending data between two user-chosen tags in selected tracks or tracks in the selected playlist:

Swap - swap data between tags, ex: ARTIST<->COMPOSER
Copy - copy data from one to another tag, ex: ARTIST->COMPOSER ARTIST
Append - append data from one tag to the end of another, ex: ARTIST->COMPOSER - ARTIST
Prepend - prepend data from one tag to the beginning of another, ex: ARTIST->ARTIST - COMPOSER

The latter three actions also provide an option to delete the info from the first tag after the copy. Read Me explains all.
This update is free for registered users of v4.x.
Action shot:
Select the Action to perform between the two chosen tags in each selected track.
Info:

file format:

Cocoa-AppleScript (Applet)

Gatekeeper Security:

Authorized Apple Developer ID

written by

Doug Adams

latest version downloads:

150 |

total downloads:

40325

download size:

373.7K

download ⬇

Current v4.3

Try it free for 10 days.
Like it? It's only $1.99

(via in-app purchase)
Perhaps Also of Interest...
Popular Now
downloaded 1m 27s ago
Correct song titles listed as "Artist - Song Name"
downloaded 7m 16s ago
Remove iTunes tracks disassociated from files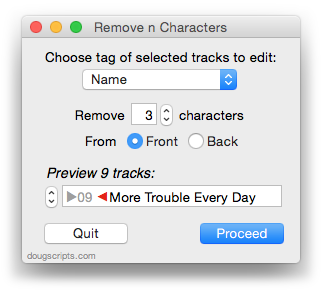 downloaded 10m 42s ago
Apply selected CD's CD Text to its disc and track tags
downloaded 19m 41s ago
Export info to HTML doc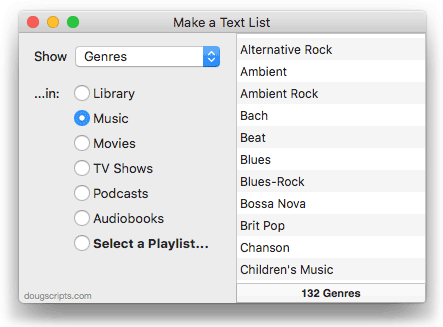 downloaded 35m 38s ago
Create a text file containing an alphabetical list of chosen tag data
10 Most Recently Added
UPDATED 6 days ago:


Copy From Start to Stop v2.1
Copy the file of the selected track using its Start and Stop times

UPDATED April 15, 2015:


File Renamer v3.1
Use tag data to formulate new file name for selected tracks' files

UPDATED April 12, 2015:


This Tag That Tag v4.3
Applet assists with swapping, copying, appending data between track tags

UPDATED April 5, 2015:


Re-Embed Artwork v2.1
Exports and then re-imports selected tracks' artwork

UPDATED March 31, 2015:


Open iTunes Media Folder v3.0
Open the iTunes Media folder in the Finder

UPDATED March 31, 2015:


A Space Between v1.2
Applet plays tracks with a user-set duration of silence between each track

UPDATED March 28, 2015:


I Hate That iTunes Done Chime! v3.0
Change the iTunes "done" chime to a System sound, no sound, or your choice of an AIFF sound file

UPDATED March 23, 2015:


Convert and Export v3.1
Convert selected tracks and export the converted files to a new folder

UPDATED March 17, 2015:


Artist to Last-First v3.0
Edit artist/composer-related tags text for sorting purposes

UPDATED March 13, 2015:


Artist to Album Artist v3.0
Copy Artist to Album Artist of selected tracks
30 Most Recent RSS Feed