OS X 10.10 and later only. Capitalizes the first letter of each word in your choice of the Name, Artist, Album Artist, Album, Composer, Grouping, Movement, Work, or Show tags of the selected iTunes tracks, but based on rules of title capitalization in the English language. Thus, "what it feels like for a girl (above and beyond 12'' club mix)" becomes "What It Feels Like for a Girl (Above and Beyond 12'' Club Mix)". Two user-editable Exception Lists can handle words that should not be title-capped or modified. Dry Run feature enables you to see what would be changed via Console.app log messages from the script.
Action shot: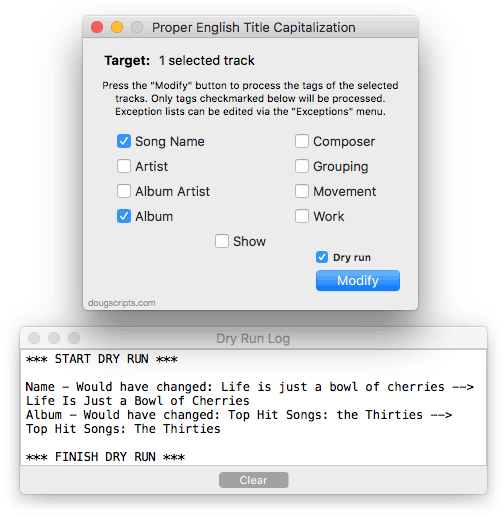 This floating panel stays open while you are selecting tracks in iTunes and modifying their tags. (Movement and Work tags will be enabled when running iTunes 12.5 or later.)
Info:

file format:

Application (Applet)

Gatekeeper Security:

Authorized Apple Developer ID

written by

Doug Adams

current version downloads:

481 |

total downloads:

61579

.zip download size:

376.5K

older pre-OS X 10.10 version:

direct download
Perhaps Also of Interest...
10 Most Recently Added
NEW 6 days ago:


Show Me The Metadata v1.0
Display a selected file's audio and Spotlight metadata

UPDATED 9 days ago:


Divvy Up A Playlist v1.1
Copy tracks from large playlist into smaller time limited playlists

UPDATED 10 days ago:


Coverscope v1.1
View/edit assigned and embeded artwork for selected track

NEW July 1, 2017:


Find Empty iTunes Media Folders v1.0
Finds and displays any empty folders in the iTunes Media folder

UPDATED June 22, 2017:


Refresh Smart Playlists v2.2
Compel selected Smart Playlists to refresh their track contents

UPDATED June 18, 2017:


Convert and Export v4.0
Convert selected tracks and export the converted files to a new folder

UPDATED June 14, 2017:


Merge-Delete Playlists v5.1
Batch merge and/or delete playlists

UPDATED June 13, 2017:


Playlists Info v1.7
Display and export playlists' name, size, time, track count, love/dislike for selected source

UPDATED June 13, 2017:


Show In Playlists v1.9
Continuously display playlists containing selected/playing track(s)

NEW June 13, 2017:


Is Artwork Embedded v1.0
Detects if a track's file's metadata contain image information
Doug's Check for Update Applet
30 Most Recent RSS Feed