OS X 10.10 and later only. Capitalizes the first letter of each word in your choice of the Name, Artist, Album Artist, Album, Composer, Grouping, Movement, Work, or Show tags of the selected iTunes tracks, but based on rules of title capitalization in the English language. Thus, "what it feels like for a girl (above and beyond 12'' club mix)" becomes "What It Feels Like for a Girl (Above and Beyond 12'' Club Mix)". Two user-editable Exception Lists can handle words that should not be title-capped or modified. Dry Run feature enables you to see what would be changed via Console.app log messages from the script.
Action shot: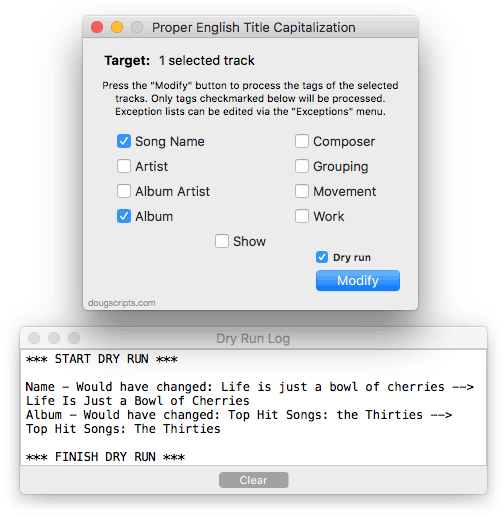 This floating panel stays open while you are selecting tracks in iTunes and modifying their tags. Movement and Work tags will be enabled when running iTunes 12.5 or later.
Latest version:
August 7, 2016
Adds support for Movement and Work tags (iTunes 12.5 beta and later)
v3.1 (4/12/2016):
Fixes regression issue that prevented launching on some OS X 10.10 systems
v3.0 (3/21/2016):
Written as a Cocoa-AppleScript applet for OS X 10.10 and later only
Access Exception Lists from menu (rather than by editing the script manually)
Adds Dry Run feature
Further:
Info:

file format:

Cocoa-AppleScript (Applet)

Gatekeeper Security:

Authorized Apple Developer ID

written by

Doug Adams

current version downloads:

595 |

total downloads:

59836

.zip download size:

362K

older pre-OS X 10.10 version:

direct download
Perhaps Also of Interest...
10 Most Recently Added