For macOS 10.12 and later/iTunes 12 and later only. This script will allow you to set the Album Rating and/or Album Love/Dislike for the albums of the selected tracks or the albums associated with the tracks in a selected playlist (note that only a single track from any album need be selected in order to change the album rating or loved of the entire album). Handy for clearing batches of albums of their user-set album ratings, or re-rating batches of albums.
Action shot: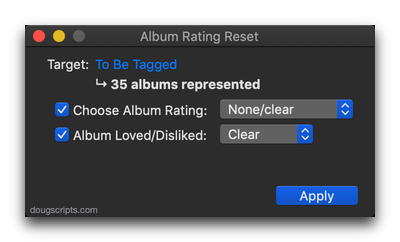 Be sure to select at least one track of each album for which you want to change the Album Rating.
Info:

file format:

Application (Applet)

Gatekeeper Security:

Authorized Apple Developer ID

written by

Doug Adams

current version downloads:

115 |

total downloads:

9861

.zip download size:

370.5K

older version for 10.10-10.13:

direct download

download ⬇

Current v3.5

Free to use, but a payment

in appreciation is

requested

.

Thanks for your support!
A/V:
Perhaps Also of Interest...
10 Most Recently Added