For macOS 10.10 and later. Append the same user-entered text to the beginning or ending of the existing text in the chosen tag--Song Name, Artist, Album Artist, Album, Composer, Comments, Genre, Grouping, Show Name (or their Sort siblings), Work or Movement--in each selected track.
Also see This Tag, That Tag and Multi-Item Edit.
Action shot: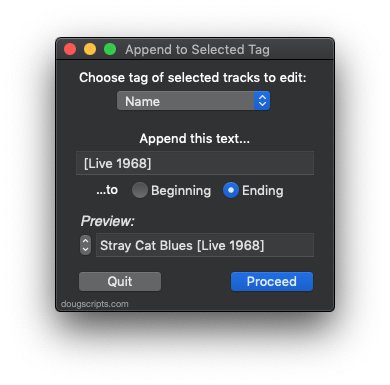 Preview each track as it will appear after applying the entered text.
Info:

file format:

Application (Applet)

Gatekeeper Security:

Authorized Apple Developer ID

written by

Doug Adams

current version downloads:

77 |

total downloads:

17721

.zip download size:

368.2K

older PPC/universal version:

direct download

older pre-OS X 10.11 version:

direct download

download ⬇

Current v4.6

Free to use, but a payment

in appreciation is

requested

.

Thanks for your support!
Perhaps Also of Interest...
Popular Now
downloaded 13m 39s ago
Exports and then re-imports selected tracks' artwork
downloaded 36m 47s ago
Copy files of tracks to selected folder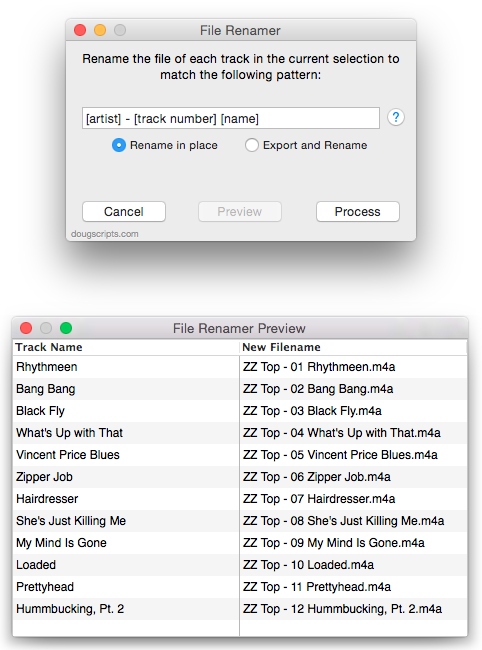 downloaded 44m 6s ago
Use tag data to formulate new file name for selected tracks' files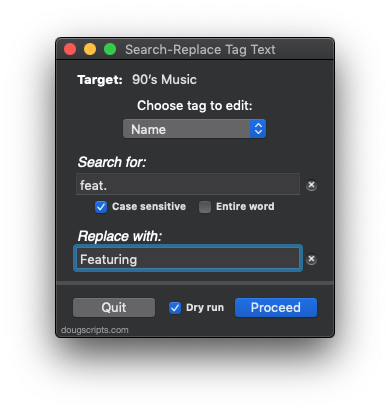 downloaded 1h 28m 48s ago
Perform search-and-replace on text in your choice of tags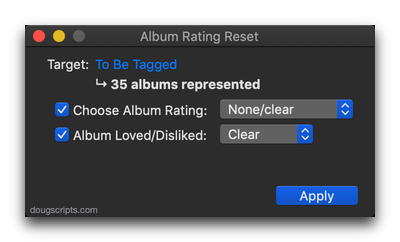 downloaded 1h 49m 50s ago
Batch-change the Album Rating for the albums of selected tracks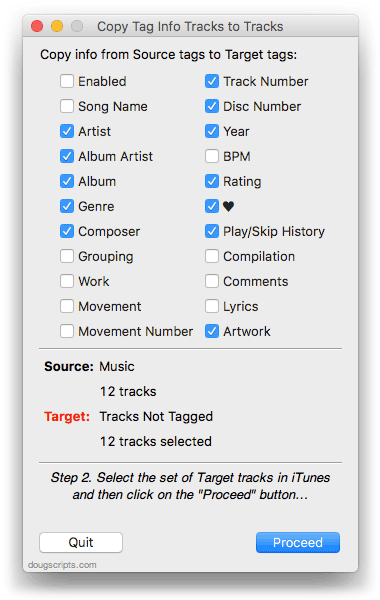 10 Most Recently Added