This script will list the apps in the "Mobile Applications" folder by app name, file name, purchaser's Apple ID, size, version and last date modified. Additionally, a tab-delimited text file of this information can be exported or the apps copied and sorted into "Purchased by..." folders (iTunes 12.7 and later only, see the Read Me for other important information).
Action shot: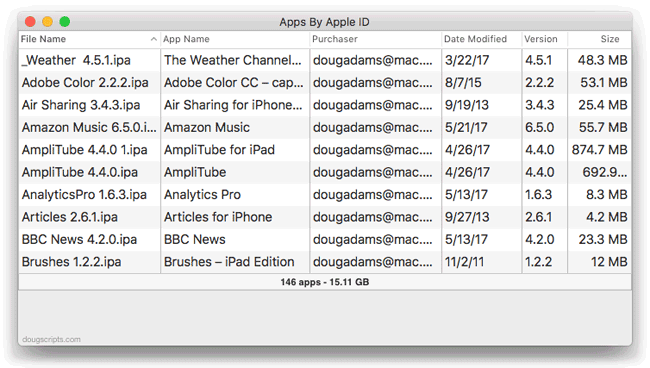 15 gigs and only 146 apps.
Info:

file format:

Application (Applet)

Gatekeeper Security:

Authorized Apple Developer ID

written by

Doug Adams

total downloads:

191

.zip download size:

384.1K

download ⬇

Current v1.0

Free to use, but a payment

in appreciation is

requested

.

Thanks for your support!
Perhaps Also of Interest...
Popular Now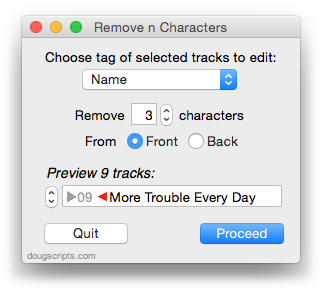 downloaded 2h 16m 23s ago
Applet assists with swapping, copying, appending data between track tags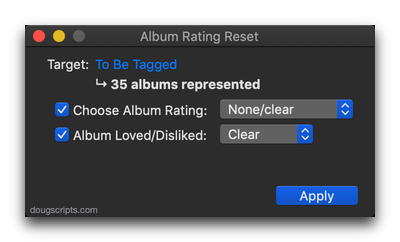 downloaded 2h 16m 43s ago
Batch-change the Album Rating for the albums of selected tracks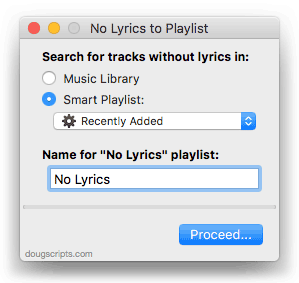 downloaded 3h 46m 6s ago
Create a playlist of tracks that do not have lyrics text
10 Most Recently Added