Obligatory warning: This script has been designated as an obsoleted "Retro Script". There is no guarantee that it will function as described with modern versions of iTunes and/or macOS. If used in its current form it may not work at all without modification and, at worst, it may corrupt or destroy data.
Based on Track Names -> Filenames, et al, copies track name and/or artist to the track's filename in the Finder. Additionally, you can specify the artist for the track names, or omit the artist entirely.
You will prefer the modern File Renamer.
Info:

file format:

Script

Gatekeeper Security:

None

written by

Geoffrey Meissner

total downloads:

9197

.zip download size:

231.8K
Popular Now
downloaded 19m 53s ago
Exports and then re-imports selected tracks' artwork
downloaded 1h 29m 48s ago
Assists with finding truncated iTunes Match tracks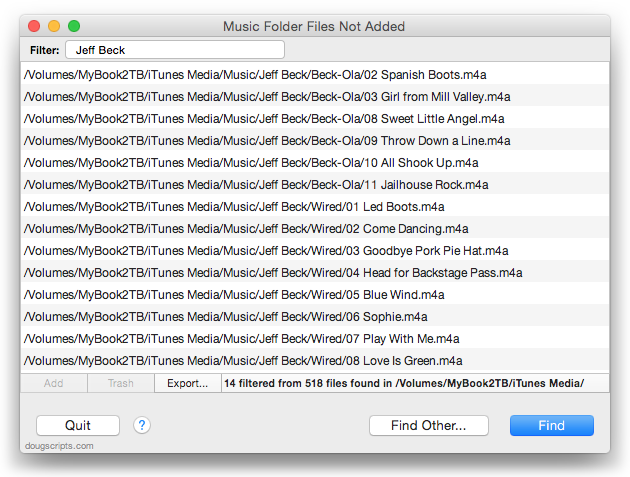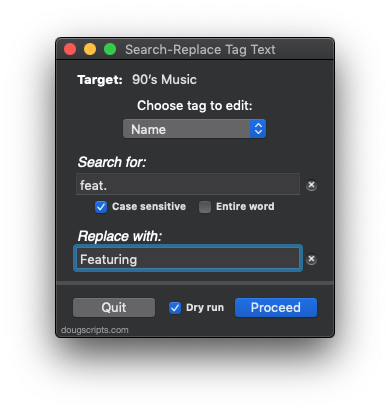 downloaded 2h 50m 38s ago
Perform search-and-replace on text in your choice of tags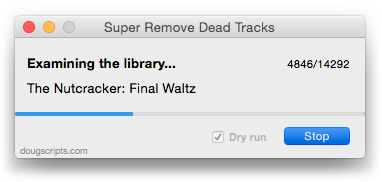 downloaded 3h 0m 0s ago
Remove iTunes tracks disassociated from files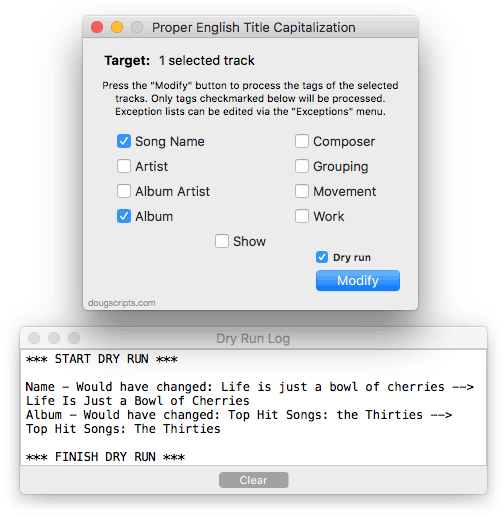 10 Most Recently Added
UPDATED September 30, 2017:


Append to Selected Tag v4.7
Append user-entered text to beginning or ending of selected tag of each selected track

UPDATED September 20, 2017:


Drop A Few My Way v4.2
Drag-and-drop to convert audio files with iTunes

NEW September 19, 2017:


Apps By Apple ID v1.0
Display information about apps in the Mobile Applications folder

UPDATED September 17, 2017:


Trackographer v5.1
Log playing tracks to text file

UPDATED September 8, 2017:


Artist to Last-First v4.2
Edit artist/composer-related tags text for sorting purposes

UPDATED September 8, 2017:


Quick Convert v4.6
Convert or import tracks with any encoder on the fly

UPDATED September 8, 2017:


Make Playlists By Tag v2.5
Create a playlist for each entry of a specified tag

UPDATED September 8, 2017:


Delete Empty Playlists v3.1
Delete all or selected empty playlists

UPDATED September 8, 2017:


Restore Artwork from Album Folder v3.4
Restore each selected track's artwork from an image file stored in its Album folder

UPDATED September 8, 2017:


Batch Export Playlists v2.3
Export selected playlists as individual XML or M3U files
Doug's Check for Update Applet
30 Most Recent RSS Feed