Obligatory warning: This script has been designated as an obsoleted "Retro Script". There is no guarantee that it will function as described with modern versions of iTunes and/or macOS. If used in its current form it may not work at all without modification and, at worst, it may corrupt or destroy data.
Note: This script has not been updated for iTunes 11. Several settings* are no longer applicable in iTunes 11 and later.
Reviewed as a Macworld Mac Gem and rated 4.0 out 5 Mice.
This application will allow you to invoke hidden iTunes preferences:
Show "Library" playlist

*

Changing view setting is global

*

Allow half-stars in ratings
Hide "Ping" buttons

*

Show/hide arrow links -- to either search the iTunes Store or search your library

*

Load complete iTunes Store preview before playing

*

Create playlists for purchased song collections

*

Play songs while importing or converting
Create file names with track number
Grid View Search results switch to List View

*

Option-click zoom button for Mini Player

*

Disable "elastic" scrolling behavior
For iTunes 9 or later in OS X 10.6 or later only. Previous version for earlier systems is available via direct download in the "Info" section below.
Designated as a Retro Script because: unlikely to work with iTunes 12.
Action shot: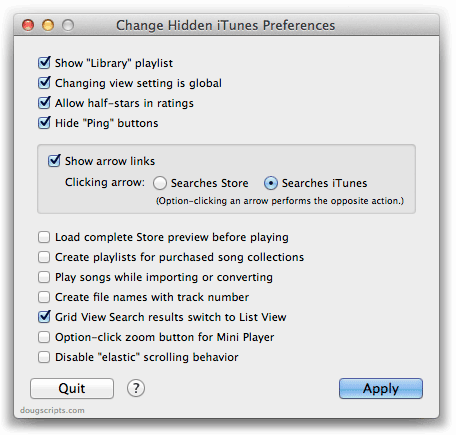 Check the settings you want applied and click the "Apply" button.
Info:

file format:

Cocoa-AppleScript (Applet)

Gatekeeper Security:

Authorized Apple Developer ID

written by

Doug Adams

current version downloads:

5726 |

total downloads:

37196

.zip download size:

330.6K

older PPC/universal version:

direct download
10 Most Recently Added
UPDATED June 18, 2018:


Make Bookmarkable v3.0
Change file type to make selected AACs bookmarkable

UPDATED May 12, 2018:


Copy Tracks to Multiple Playlists v4.0
Copy selected tracks to one or more playlists

NEW May 2, 2018:


Drop and Export Artwork v1.0
Export image metadata from drag-and-dropped audio files

UPDATED April 28, 2018:


Is Artwork Embedded v1.1
Detects if a track's file's metadata contain image information

UPDATED April 28, 2018:


Artwork as Album Folder Icon v1.1
Assigns track artwork as icon for corresponding file's folder

UPDATED April 27, 2018:


Skip Back or Ahead v2.0
Advance or rewind the currently playing track an entered number of seconds

NEW April 23, 2018:


Side Splitter v1.0
Split an album of tracks into "side" playlists and auto-play them

UPDATED April 6, 2018:


Search-Replace Tag Text v5.3
Perform search-and-replace on text in your choice of tags

UPDATED March 24, 2018:


New Playlist from Selection to Folder v1.2
Creates a new playlist in a chosen Playlist Folder from selected tracks

UPDATED March 22, 2018:


Make A Text List v5.0
Display/export a text file list of chosen tag data in library or playlist
Doug's Check for Update Applet
30 Most Recent RSS Feed