For macOS 10.10 and later only Quickly compares the contents of any two playlists and displays the tracks that are common to both or the tracks in one playlist not contained by the other. Has tools to copy or move tracks from one playlist to another or delete common tracks from one or the other playlist. Can optionally create a text file report of these comparisons.
Free to try in Demo Mode: While in Demo Mode, several features will be disabled. An in-app purchase of a registration code will unlock the disabled features.
To purchase a registration code, download and launch the app. Click "Register..." in its File menu and follow the prompts to purchase a code for $1.99. When your payment is processed, you will be emailed a registration code that will unlock the Demo Mode restrictions.
Action shot: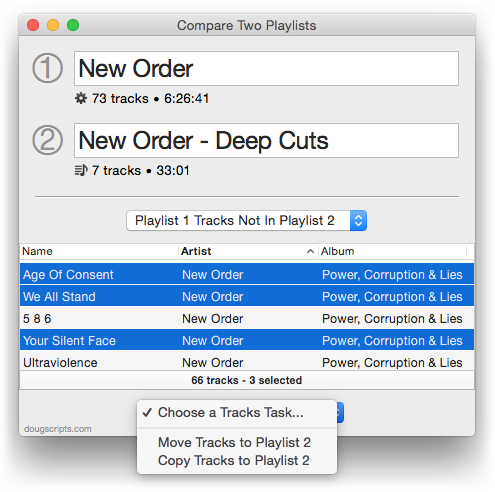 Find out which tracks are common to both or exclusive to each of two drag-and-dropped playlists.
Info:

file format:

Cocoa-AppleScript (Applet)

Gatekeeper Security:

Authorized Apple Developer ID

written by

Doug Adams

current version downloads:

223 |

total downloads:

7141

.zip download size:

412.3K

download ⬇

Current v3.3

Try it free in Demo Mode.
Unlock it for only $1.99

(via in-app purchase)
Perhaps Also of Interest...
Popular Now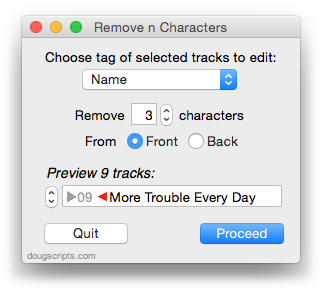 downloaded 1h 25m 36s ago
Applet assists with swapping, copying, appending data between track tags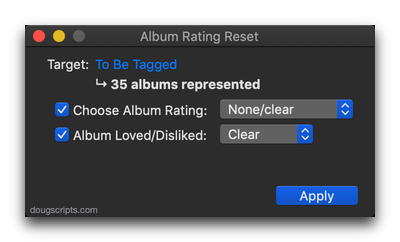 downloaded 1h 25m 56s ago
Batch-change the Album Rating for the albums of selected tracks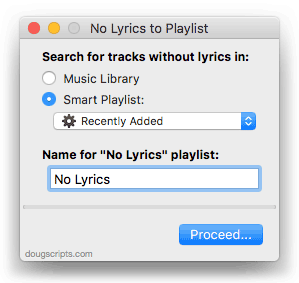 downloaded 2h 55m 19s ago
Create a playlist of tracks that do not have lyrics text
10 Most Recently Added