Makes a copy of the selected track using its Start and Stop times as the beginning and ending of the new file and adds to Library, with option to name new track/file. If using with file tracks, NOTE: you may experience some degradation of audio quality if you re-encode a file (one which has already been encoded), and thus the quality of your copy may be a matter of taste. Mileage will vary.
iTunes will honor the Start and Stop times of a file track when using its "Make a kind Version" conversion feature, but doesn't give you the option to rename the new track or copy it to the current playlist.
Works as a fine companion to the script Player Position to Start or Stop, which sets the Start or Stop time of the currently loaded track to the time of the paused player position.
Action shot: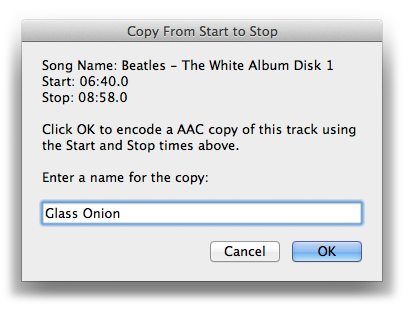 Use the modified Start and Stop times of the track as the new times for a copy of the track.
Info:

file format:

Application (Applet)

Gatekeeper Security:

None

written by

Doug Adams

current version downloads:

243 |

total downloads:

4797

.zip download size:

346.8K

download ⬇

Current v2.2

Free to use, but a payment

in appreciation is

requested

.

Thanks for your support!
Perhaps Also of Interest...
10 Most Recently Added