For macOS 10.12 and later. This applet will copy specfic tag data from one set of selected tracks to a second set of selected tracks. You can copy any combination of Enabled (checkbox), Song Name, Artist, Album, Album Artist, Composer, Genre, Grouping, Work, Movement, Rating, Loved/Disliked, Plays/Skips, Lyrics, BPM, Artwork, Disc and Track info, Comments and Year.
Use with thoughtfulness. Both sets of selected tracks should be sorted by Play Order/Manual Order (or at the very least using the same sorting) so the tag info is copied in the correct order from and to the intended tracks.
Only tracks in the local iTunes library are accessible. Apple Music's "For You", "Browse" and "Radio" tracks are inaccessible.
Action shot: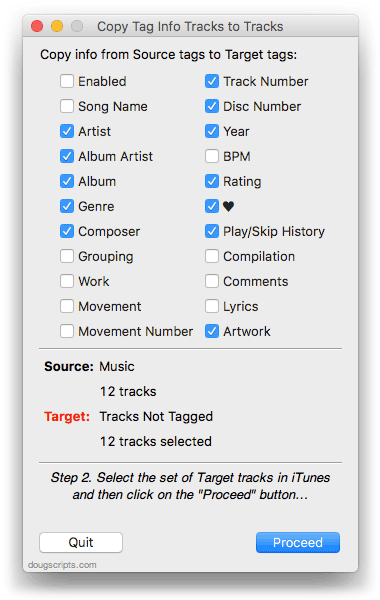 Copy the chosen tags from a set of Source tracks to a second set of Target tracks.
Info:

file format:

Application (Applet)

Gatekeeper Security:

Authorized Apple Developer ID

written by

Doug Adams

current version downloads:

142 |

total downloads:

26260

.zip download size:

371.3K

older pre-OS X 10.11 version:

direct download

older version for 10.10-10.13:

direct download

download ⬇

Current v5.4

Free to use, but a payment

in appreciation is

requested

.

Thanks for your support!
Perhaps Also of Interest...
10 Most Recently Added
UPDATED 7 days ago:


New Play Count v3.0
Set the Plays of selected tracks

UPDATED October 27, 2018:


Drop and Export Artwork v1.2
Export image metadata from drag-and-dropped audio files

UPDATED October 26, 2018:


Show Me The Metadata v1.2
Display a selected file's audio and Spotlight metadata

UPDATED October 15, 2018:


Size of Artwork v2.0
Display the width x height of selected track's artwork

UPDATED October 14, 2018:


Comments Search v1.2
Search Comments tags of Music tracks, copy track results to playlist

UPDATED October 13, 2018:


Clipboard as Artwork for Selection v1.1
Copy clipboard image directly to selected tracks as artwork

UPDATED October 13, 2018:


Clipboard to Multi-Tracks Lyrics v2.0
Paste text contents of the clipboard to each of the selected tracks' Lyrics tag

UPDATED October 12, 2018:


Copy Tracks to Multiple Playlists v4.2
Copy selected tracks to one or more playlists

UPDATED October 7, 2018:


Batch Trim Start or Stop Time (Seconds) v2.3
Change selected tracks' Start Time or Stop Time by user-entered seconds

UPDATED October 7, 2018:


PDF Adder v5.6
Assists with tagging and adding PDF files to iTunes
Doug's Check for Update Applet
30 Most Recent RSS Feed