This script is a droplet. Drag audio files to its icon in the Finder (or Finder bar) and a multi-edit window will allow you to set many common tags before the script adds the files to iTunes, after which your tag info will be applied to the new tracks. Saves trips to iTunes when batch-adding files. Additionally, tracks can be copied to a new or existing playlist.
Recommended for small batches of files, up to 20 or so; a very large batch of files may aggravate iTunes. You may be better off multi-editing tags in iTunes the conventional way
OS X 10.8 or later only. Previous versions available at the link below in the "Info" section.
Action shot: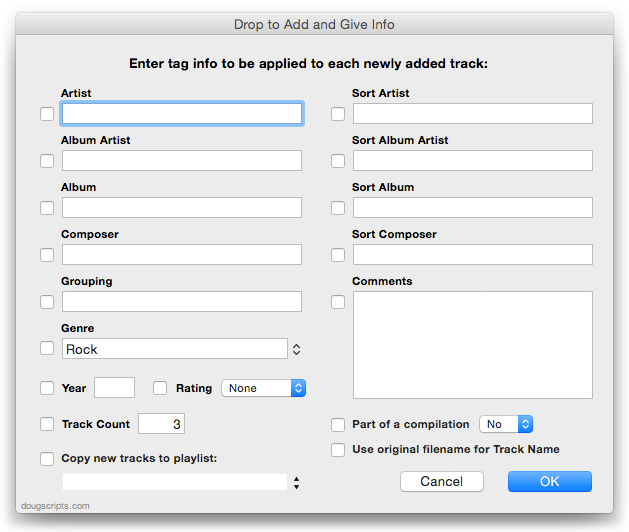 After dropping files to the droplet, enter tags for the tracks in this screen before the files are added to iTunes. The data you enter will be applied to the new tracks after being added.
Info:

file format:

Cocoa-AppleScript (Droplet)

Gatekeeper Security:

Authorized Apple Developer ID

written by

Doug Adams

current version downloads:

240 |

total downloads:

2252

.zip download size:

402.1K

older PPC/universal version:

direct download

older pre-OS X 10.9 version:

direct download

download ⬇

Current v3.1

Free to use, but a payment

in appreciation is

requested

.

Thanks for your support!
Perhaps Also of Interest...
10 Most Recently Added
UPDATED September 30, 2017:


Append to Selected Tag v4.7
Append user-entered text to beginning or ending of selected tag of each selected track

UPDATED September 20, 2017:


Drop A Few My Way v4.2
Drag-and-drop to convert audio files with iTunes

NEW September 19, 2017:


Apps By Apple ID v1.0
Display information about apps in the Mobile Applications folder

UPDATED September 17, 2017:


Trackographer v5.1
Log playing tracks to text file

UPDATED September 8, 2017:


Artist to Last-First v4.2
Edit artist/composer-related tags text for sorting purposes

UPDATED September 8, 2017:


Quick Convert v4.6
Convert or import tracks with any encoder on the fly

UPDATED September 8, 2017:


Make Playlists By Tag v2.5
Create a playlist for each entry of a specified tag

UPDATED September 8, 2017:


Delete Empty Playlists v3.1
Delete all or selected empty playlists

UPDATED September 8, 2017:


Restore Artwork from Album Folder v3.4
Restore each selected track's artwork from an image file stored in its Album folder

UPDATED September 8, 2017:


Batch Export Playlists v2.3
Export selected playlists as individual XML or M3U files
Doug's Check for Update Applet
30 Most Recent RSS Feed