Open and export the files of the selected iTunes tracks to a user-chosen folder using one of QuickTime Pro's audio formats: 3GPP, AIFF, AVI, Hinted Movie, muLaw, MPEG-4,QuickTime Media Link, QuickTime Movie, System 7 Sound, and Wave. Provides some basic error checking. QuickTime Pro required.
(Note: In order to launch this PowerPC-era script on an Intel machine, it must first be opened and then saved using Script Editor which is located in your /Applications/Utilities/ folder. More information is here.)
Info:

file format:

Script

Gatekeeper Security:

None

written by

Doug Adams

current version downloads:

2960 |

total downloads:

4046

.zip download size:

285.7K

download ⬇

Current v1.2

Free to use, but a payment

in appreciation is

requested

.

Thanks for your support!
Perhaps Also of Interest...
Popular Now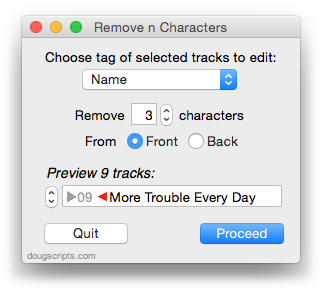 downloaded 1h 25m 32s ago
Applet assists with swapping, copying, appending data between track tags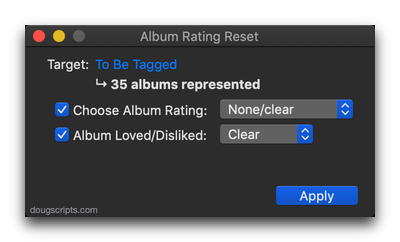 downloaded 1h 25m 52s ago
Batch-change the Album Rating for the albums of selected tracks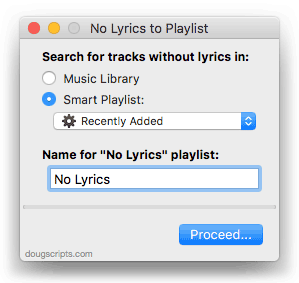 downloaded 2h 55m 15s ago
Create a playlist of tracks that do not have lyrics text
10 Most Recently Added