For macOS 10.10 and later only. This script will examine the metadata of the audio file of a single selected track for image information and will report if such embedded artwork does or does not exist.
For faster access and activation, assign this script a keyboard shortcut.
Also see Tracks Without Embedded Artwork.
Action shot: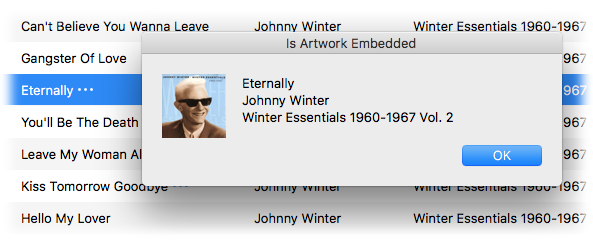 If the audio file of a track contains image information in its metadata then that image will be displayed.
Info:

file format:

Script Bundle

Gatekeeper Security:

Authorized Apple Developer ID

written by

Doug Adams

current version downloads:

246 |

total downloads:

695

.zip download size:

347.8K

download ⬇

Current v1.1

Free to use, but a payment

in appreciation is

requested

.

Thanks for your support!
Perhaps Also of Interest...
10 Most Recently Added
UPDATED yesterday:


List MIAs v4.10
Display, create text file listing info of dead tracks

UPDATED yesterday:


Quick Convert v4.7
Convert or import tracks with any encoder on the fly

UPDATED yesterday:


CD Text to CD Info v4.6
Apply selected CD's CD Text to its disc and track tags

UPDATED yesterday:


Album Rating Reset v3.5
Batch-change the Album Rating for the albums of selected tracks

UPDATED 2 days ago:


Super Remove Dead Tracks v4.10
Remove iTunes tracks disassociated from files

UPDATED 2 days ago:


Not In Any Playlist v2.10
List tracks not assigned to playlists

UPDATED 2 days ago:


Remove n Characters From Front or Back v5.10
Delete characters from the beginning or ending of selected tracks' name, artist, album, comments, composer, or show tags

UPDATED 2 days ago:


Sundry Info To Comments v4.5
Paste non-ID3 Tag track and file-related info into Category, Comments, Description or Episode ID tag

UPDATED 2 days ago:


This Tag That Tag v4.12
Applet assists with swapping, copying, appending data between track tags

UPDATED 2 days ago:


Set Video Kind of Selected v5.6
Change video kind and video related tags of selected video tracks
Doug's Check for Update Applet
30 Most Recent RSS Feed