For macOS 10.12 and later. This applet will create a new music track playlist for every year (or range of years) based on the Year tags of tracks in the Music Library. Optionally, Year playlists can be sorted into Playlist Folders by decade or filtered by a single Genre (Rock 1981, Rock 1982, Rock 1983, and so on.)
Tracks with empty Year tags will be ignored. If you already have playlists with names matching the ones the applet will create they will be deleted by the applet. Be sure to read "Considerations Before Using, Notes of Caution" in the read me for workarounds.
Also see Playlist Manager which has a batch-delete playlists function.
Action shot: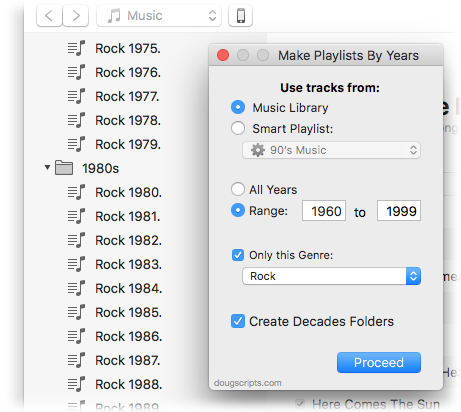 All tracks Genre-tagged as "Rock" in the Music library have be segregated into individual Year playlists between 1960 and 1999 and then sorted into Playlist Folders by decade.
Info:

file format:

Application (Applet)

Gatekeeper Security:

Authorized Apple Developer ID

written by

Doug Adams

current version downloads:

21 |

total downloads:

550

.zip download size:

403.1K

older version for 10.10-10.13:

direct download

download ⬇

Current v1.4

Free to use, but a payment

in appreciation is

requested

.

Thanks for your support!
Perhaps Also of Interest...
Popular Now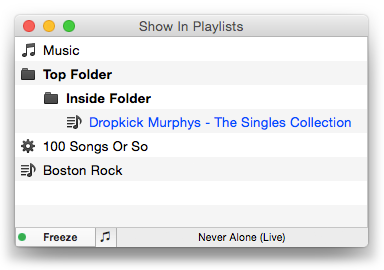 downloaded 5m 32s ago
Continuously display playlists containing selected/playing track(s)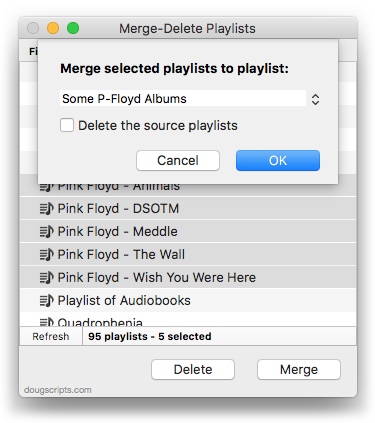 downloaded 5m 50s ago
Batch merge and/or delete playlists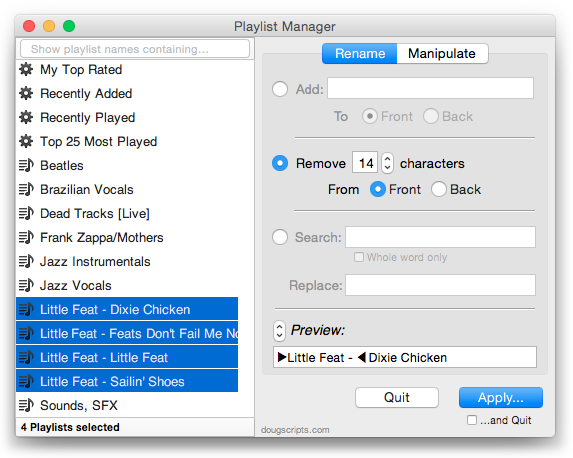 downloaded 6m 1s ago
Perform tasks on a batch of playlists; rename, delete, duplicate, merge, more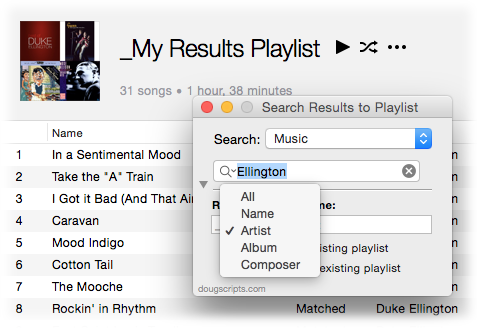 10 Most Recently Added