For macOS 10.10 and later. This applet will allow you to view and edit most tags (and some additional options) of the selected track(s) in a single floating window using single-edit mode (one selected track) or multi-edit mode, which emulates the pre-iTunes 12 "multiple items" format; that is, a checkbox adjacent to each tag allows you to select which changes are to be applied to the selection's tags.
Can also be used to copy collected tags from one set of tracks to another set of tracks by toggling "Information Tracking".
Thanks to Wolfgang Reszel for the icon.
Action shot: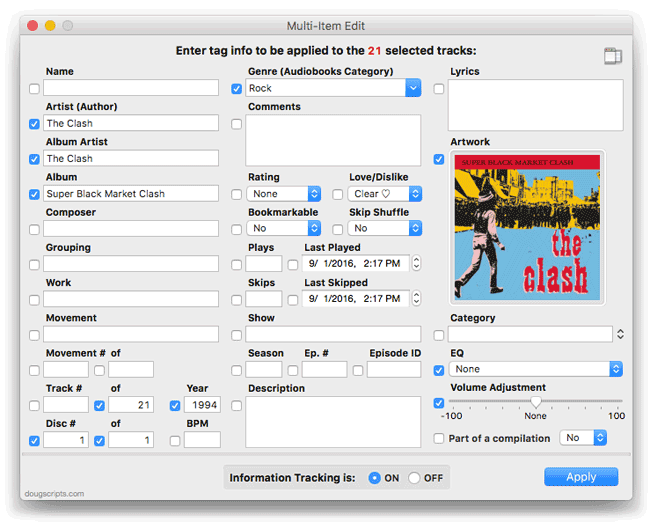 Access most tags of a selection of iTunes tracks in a single window. (Sorting tags are accessible via togglable Drawer.)
Info:

file format:

Cocoa-AppleScript (Applet)

Gatekeeper Security:

Authorized Apple Developer ID

written by

Doug Adams

current version downloads:

736 |

total downloads:

9722

.zip download size:

2035.8K

older pre-OS X 10.11 version:

direct download

download ⬇

Current v5.4

Use it free for 10 days.
Like it? It's only $1.99

(via in-app purchase)
A/V:
Perhaps Also of Interest...
10 Most Recently Added