OS X 10.10 or later. This applet will scan iTunes for tracks that are not assigned to any user-created playlists and display them. Includes options to export the list as a text file, ignore Smart playlists, ignore non-Music tracks, and copy selected tracks to a new or existing iTunes playlist.
Action shot: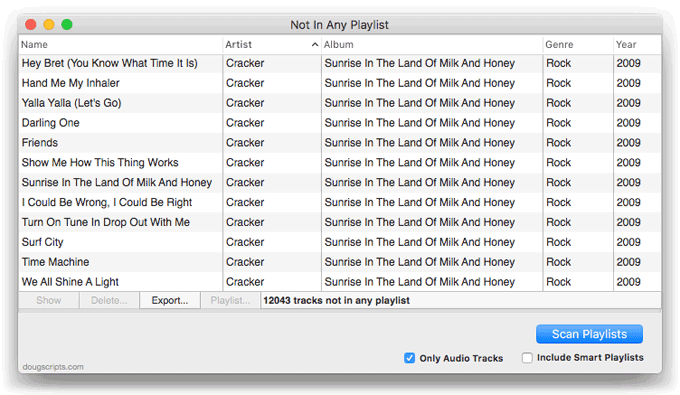 These tracks aren't assigned to any regular playlists in iTunes.
Info:

file format:

Application (Applet)

Gatekeeper Security:

Authorized Apple Developer ID

written by

Doug Adams

current version downloads:

368 |

total downloads:

12876

.zip download size:

403.8K

older pre-OS X 10.11 version:

direct download

download ⬇

Current v2.9

Use it free for 10 days.
Like it? It's only $1.99

(via in-app purchase)
Perhaps Also of Interest...
10 Most Recently Added
UPDATED June 18, 2018:


Make Bookmarkable v3.0
Change file type to make selected AACs bookmarkable

UPDATED May 12, 2018:


Copy Tracks to Multiple Playlists v4.0
Copy selected tracks to one or more playlists

NEW May 2, 2018:


Drop and Export Artwork v1.0
Export image metadata from drag-and-dropped audio files

UPDATED April 28, 2018:


Is Artwork Embedded v1.1
Detects if a track's file's metadata contain image information

UPDATED April 28, 2018:


Artwork as Album Folder Icon v1.1
Assigns track artwork as icon for corresponding file's folder

UPDATED April 27, 2018:


Skip Back or Ahead v2.0
Advance or rewind the currently playing track an entered number of seconds

NEW April 23, 2018:


Side Splitter v1.0
Split an album of tracks into "side" playlists and auto-play them

UPDATED April 6, 2018:


Search-Replace Tag Text v5.3
Perform search-and-replace on text in your choice of tags

UPDATED March 24, 2018:


New Playlist from Selection to Folder v1.2
Creates a new playlist in a chosen Playlist Folder from selected tracks

UPDATED March 22, 2018:


Make A Text List v5.0
Display/export a text file list of chosen tag data in library or playlist
Doug's Check for Update Applet
30 Most Recent RSS Feed