For macOS 10.12 and later only. These two AppleScripts each assist with adding PDF files to iTunes as PDF tracks. Each provides a method for easily supplying Artist, Album Artist, Album, Genre, Year, Rating, Loved and Comments tag data which is then applied to the newly-added PDF track entry:
Add as PDF to iTunes is a PDF Service workflow that, when installed, will be available in the PDF pop-up menu of the Print Dialog. It allows you to save the current document as a PDF file (from any application that uses the Print Dialog) and add it to iTunes. I describe here how I use it with Safari Reader view.
PDF Adder is an applet/droplet that will let you choose or drag-and-drop an existing PDF file and add it to iTunes. It can be installed in iTunes' Scripts folder for easy access from iTunes Script menu.
Here are some suggestions for your own "digital booklet" PDFs:
Album lyrics/liner notes
Music production notes
Manuals
Receipts/order confirmations
DJ set lists
Podcast addenda
Audiobook chapter synopses
Lecture notes
Sound effects indexes
Anything you can print, you can make into a PDF...and any PDF can be added to iTunes.
Action shot: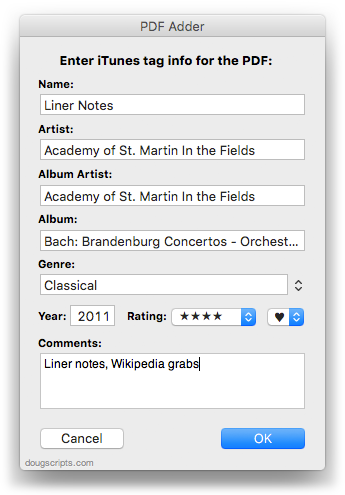 Each script displays a panel like this one before adding the PDF to iTunes.
Info:

file format:

Application (Applet)

Gatekeeper Security:

Authorized Apple Developer ID

written by

Doug Adams

current version downloads:

22 |

total downloads:

18936

.zip download size:

420.5K

older pre-OS X 10.11 version:

direct download

older version for 10.10-10.13:

direct download

download ⬇

Current v5.6

Free to use, but a payment

in appreciation is

requested

.

Thanks for your support!
Perhaps Also of Interest...
10 Most Recently Added