For macOS 10.10 and later only. Performs a search-and-replace on the text in your choice of tag (Song Name, Show, Artist, Album Artist, Album, Composer, Comments, Genre, Grouping, Movement or Work) in the selected tracks or all the tracks in the selected Playlist. Features case sensitivity and whole word match options and dry run preview.
Action shot: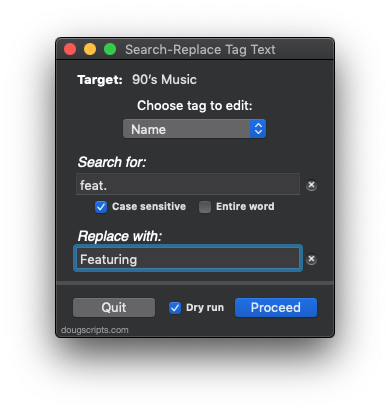 It's a good idea to do a Dry Run to check the results before actually doing the replace.
Latest version:
April 6, 2018
Addresses issue with line-feed characters in Comments tag
v5.1 (mar 25 2018):
Fixes pre-macOS 10.13 compatibility issue that prevented launch
v5.1 (mar 22 2018):
Float Window toggle added to Window menu
Minor maintenance
Further:
Info:

file format:

Application (Applet)

Gatekeeper Security:

Authorized Apple Developer ID

written by

Doug Adams

current version downloads:

578 |

total downloads:

49807

.zip download size:

384.3K

older pre-OS X 10.11 version:

direct download

download ⬇

Current v5.3

Use it free for 10 days.
Like it? It's only $1.99

(via in-app purchase)
Perhaps Also of Interest...
10 Most Recently Added
UPDATED June 18, 2018:


Make Bookmarkable v3.0
Change file type to make selected AACs bookmarkable

UPDATED May 12, 2018:


Copy Tracks to Multiple Playlists v4.0
Copy selected tracks to one or more playlists

NEW May 2, 2018:


Drop and Export Artwork v1.0
Export image metadata from drag-and-dropped audio files

UPDATED April 28, 2018:


Is Artwork Embedded v1.1
Detects if a track's file's metadata contain image information

UPDATED April 28, 2018:


Artwork as Album Folder Icon v1.1
Assigns track artwork as icon for corresponding file's folder

UPDATED April 27, 2018:


Skip Back or Ahead v2.0
Advance or rewind the currently playing track an entered number of seconds

NEW April 23, 2018:


Side Splitter v1.0
Split an album of tracks into "side" playlists and auto-play them

UPDATED April 6, 2018:


Search-Replace Tag Text v5.3
Perform search-and-replace on text in your choice of tags

UPDATED March 24, 2018:


New Playlist from Selection to Folder v1.2
Creates a new playlist in a chosen Playlist Folder from selected tracks

UPDATED March 22, 2018:


Make A Text List v5.0
Display/export a text file list of chosen tag data in library or playlist
Doug's Check for Update Applet
30 Most Recent RSS Feed