For macOS 10.10 and later only. Search a chosen media library (Library, Music, Movies, etc) or the selected playlist for user-entered text by All, Song Name, Artist, Album, or Composer tag and copy the track results to a Search Results playlist, which will be created automatically if necessary. Can optionally re-create or append to the Search Results playlist on each run. Floats over iTunes while active for easy access.
Action shot: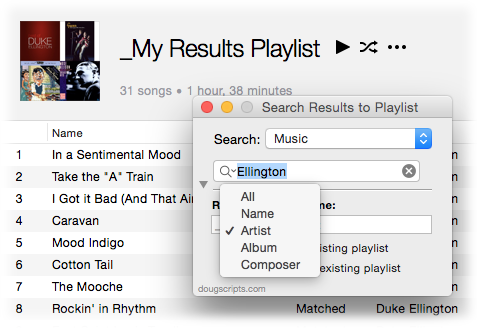 This window floats over iTunes while the script is active.
Latest version:
November 14, 2016
Worksaround AppleScript bug in iTunes 12.5 when choosing to search by Song Name causing search to default to All
Minor maintenance and fixes
This version for macOS 10.10 and later only
Further:
Info:

file format:

Application (Applet)

Gatekeeper Security:

Authorized Apple Developer ID

written by

Doug Adams

current version downloads:

118 |

total downloads:

1514

.zip download size:

361.1K

older pre-OS X 10.10 version:

direct download

download ⬇

Current v2.4

Free to use, but a payment

in appreciation is

requested

.

Thanks for your support!
Perhaps Also of Interest...
Popular Now
downloaded 17m 16s ago
Exports and then re-imports selected tracks' artwork
downloaded 1h 27m 11s ago
Assists with finding truncated iTunes Match tracks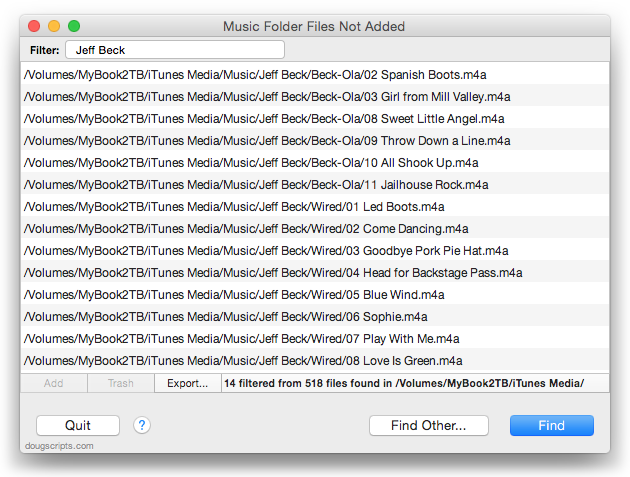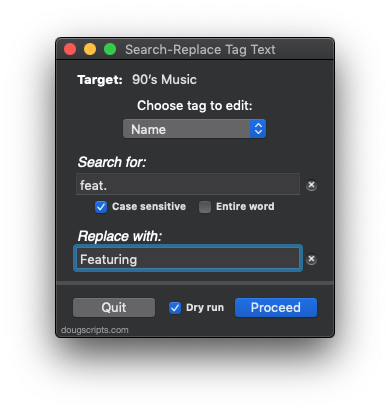 downloaded 2h 48m 1s ago
Perform search-and-replace on text in your choice of tags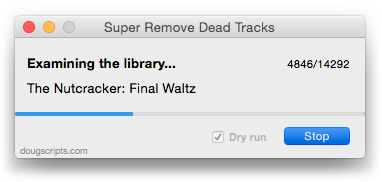 downloaded 2h 57m 23s ago
Remove iTunes tracks disassociated from files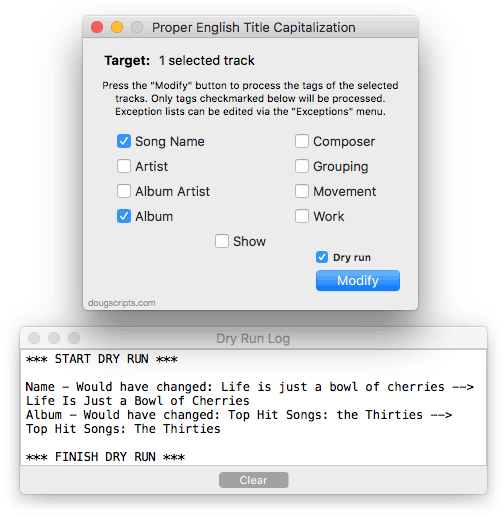 10 Most Recently Added
UPDATED September 30, 2017:


Append to Selected Tag v4.7
Append user-entered text to beginning or ending of selected tag of each selected track

UPDATED September 20, 2017:


Drop A Few My Way v4.2
Drag-and-drop to convert audio files with iTunes

NEW September 19, 2017:


Apps By Apple ID v1.0
Display information about apps in the Mobile Applications folder

UPDATED September 17, 2017:


Trackographer v5.1
Log playing tracks to text file

UPDATED September 8, 2017:


Artist to Last-First v4.2
Edit artist/composer-related tags text for sorting purposes

UPDATED September 8, 2017:


Quick Convert v4.6
Convert or import tracks with any encoder on the fly

UPDATED September 8, 2017:


Make Playlists By Tag v2.5
Create a playlist for each entry of a specified tag

UPDATED September 8, 2017:


Delete Empty Playlists v3.1
Delete all or selected empty playlists

UPDATED September 8, 2017:


Restore Artwork from Album Folder v3.4
Restore each selected track's artwork from an image file stored in its Album folder

UPDATED September 8, 2017:


Batch Export Playlists v2.3
Export selected playlists as individual XML or M3U files
Doug's Check for Update Applet
30 Most Recent RSS Feed